YEREVAN (RFE/RL) — America cares deeply about its partnership with Armenia, Victoria Nuland, the United States Assistant Secretary of State for European and Eurasian Affairs, said in Yerevan on Wednesday on the third leg of her South Caucasus tour that also included stops in Azerbaijan and Georgia.
"We have for more than 20 years supported democracy, independence, economic growth, prosperity and peace here. And we want to continue to do that and to deepen and broaden that relationship," the senior U.S. diplomat added.
"We care deeply about Armenia's ability to grow stronger, more prosperous, more independent, and to represent a strong democratic image in this part of the world and to protect the rights of all Armenians to live freely. So, it's important to us."
Considering a vibrant civil society to be one of the greatest strengths of Armenia, the U.S. assistant secretary of state said that the United States is starting a new initiative with the Armenian government to promote anti-corruption goals and create a level-playing field for investors.
"We'll be starting a new initiative of the embassy with the government to promote anti-corruption goals like e-governance, transparency and procurement, improving the climate for investment, closing the space for dirty money, a level-playing field for all Armenians and all investors to compete equally here that not only protects the investment environment and protects the country's democracy, but also closes the space for outside interference in your economy," said Nuland.
After meetings with the leaders of Armenia in Yerevan and previously with the leaders of Azerbaijan in Baku the senior U.S. diplomat said she felt "we did make progress in both capitals."
"I spoke to both [Azerbaijani] President [Ilham] Aliyev and [Armenian] President [Serzh] Sarkisian on this trip about ending the bloodshed which serves nobody. I felt that we did make progress in both capitals on this visit, and I hope to see peace in coming days and weeks in the interest of all of the soldiers serving and all of the parents, and in the interest of peace and stability in the region," she said.
Speaking at a press conference in Baku on February 17, Nuland said she would talk in Yerevan about the release of two Azerbaijani nationals convicted and jailed in Nagorno-Karabakh for crimes, including a teenager's murder.
Addressing the case in Yerevan today, the U.S. official described what the two Azerbaijanis did as a "terrible crime". At the same time, she repeated her appeal for their handover to Azerbaijan. "I did speak about the terrible crime that was committed, it was obviously a crime. That said, we do call on relevant authorities to make the kind of humanitarian gesture that I spoke of at my previous press event," Nuland said.
The U.S. assistant secretary of state also addressed the issue of the 2009 Turkish-Armenian protocols on normalization of ties between the two nations that Armenian President Sarkisian decided to recall from the parliament earlier this week.
In doing so, the Armenian leader stressed that "the Turkish government has no political will, distorts the spirit and letter of the protocols, and continues its policy of setting preconditions."
Despite this decision, Nuland said, it is important for Washington that Armenia has not withdrawn from the process.
"From an American point of view we believe that the normalization between Armenia and Turkey remains important for both countries and remains important for the region as a whole and for regional peace and stability. So, we will continue to promote it," Nuland said. "I think that what's important to note is that Armenia has not withdrawn from the process and that's also important to us that the process can continue."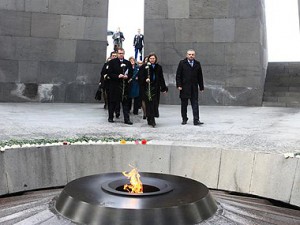 Earlier on Wednesday the U.S. assistant secretary of state visited Yerevan's Tsitsernakaberd memorial to some 1.5 million Armenians massacred during the Ottoman-era Genocide in Turkey. Just like former U.S. Secretary of State Hillary Clinton in 2010, Nuland described her visit as a "private" one.
"It was a very moving stop today at the memorial. I have never personally had a chance to go, and it was obviously an important part of my visit here today," Nuland said.