STEPANAKERT — Nagorno-Karabakh's armed forces said on Saturday that they have recovered, in a commando raid, the bodies of the three Armenian pilots of a combat helicopter shot down by Azerbaijani forces last week.
In a statement, the Defense Army said its special forces approached the wreckage of the Mi-24 gunship in the no man's land east of Karabakh despite the Azerbaijani military's refusal to grant the Armenian side access to the site. It said they managed to evacuate "the corpse of one of the crew members, the remains of the two other pilots and some necessary parts of the helicopter."
"Two enemy soldiers were taken out during the special operation," added the statement. "The Defense Army suffered no casualties."
"This action was unprecedented in its nature and complexity, taking into consideration the heavy resistance on the part of the adversary," Spokesman for the Armenian Ministry of Defense Artsrun Hovhannisian said, adding that the enemy incurred great losses.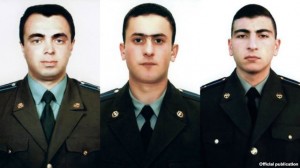 The ministry spokesman said Karabakh Armenian commandos neutralized an "ambush" set up by Azerbaijani troops. "It was a world-class, brilliant operation," Hovannisian wrote on Facebook. He gave no other details.
The army clarified later in the day that the operation took place on Thursday. The Karabakh Armenian military did not explain why it did not immediately announce the evacuation.
The Azerbaijani Defense Ministry was quick to deny the information, however, saying that Armenian soldiers did not access to the crash site reportedly located less than 200 meters from Azerbaijani army positions. It claimed that the Armenian military will "fool the Armenian people" by handing "other remains" to the families of the dead pilots.
The Karabakh army shrugged off those claims. It pointed to the Azerbaijani combat death reported on Thursday and released aerial photographs of the helicopter crash site which it said were taken before and after the operation. One of the images purportedly shows the body of one of the Armenian pilots lying amidst the debris.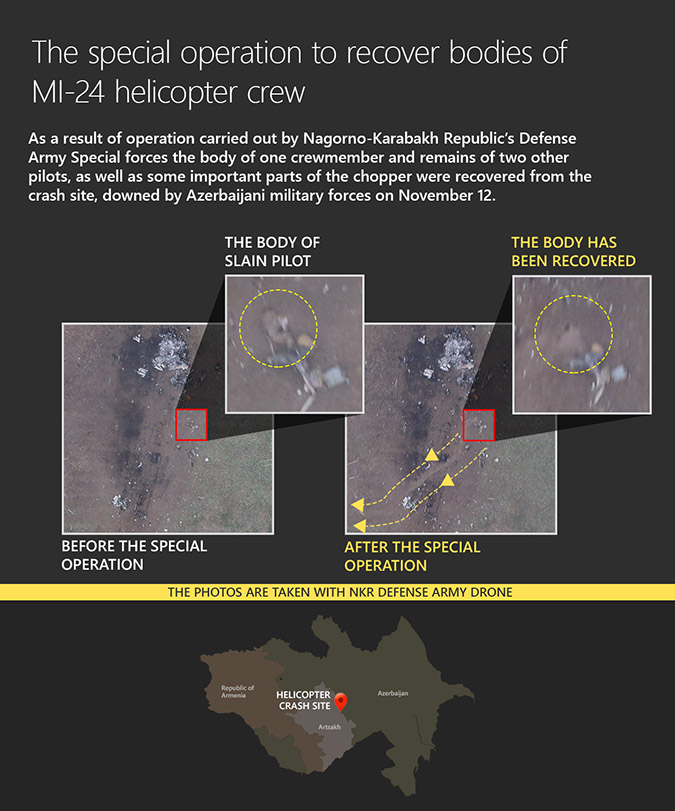 Infographic by panorama.am