LOS ANGELES — Over 20 years have passed since the day that fighting stopped between Artsakh and Azerbaijan. However, until this day, Armenians, a quarter of them children, die, are mutilated and suffer from landmines, cluster bombs and unexploded ordnance.
Landmine Free Artsakh is a group of concerned Armenians that has taken it upon itself to help raise funds and awareness until every village in Artsakh has been cleared of this ever-present danger. These villages are in the Lachin, Hadrut and Martuni regions, where no international government grants and funds have been secured. Without private funding these minefields might never be cleared.
The group is raising funds for the HALO Trust which is the world's oldest and largest humanitarian landmine clearance organization and the only mine clearance operator in Artsakh.
This year alone there have been six incidents, including two deaths, caused by unexploded landmines and ordnances. Recently, on September 13th, 2014, 28 year-old Christina Zakarian, while out on a field, stepped on an anti-personnel blast mine and had to have her left leg amputated below the knee. Christina and her husband are migrant laborers from Armenia who recently moved to Agdam with their two small children to work for a local farmer. They had only been in Artsakh for a month when the accident happened.
In 2013, Landmine Free Artsakh raised $11,000 for the HALO Trust and in October of 2013, the village of Norashenik with a population of 105 and 370 acres of land was completely cleared of 12 cluster bombs and 28 unexploded ordnance.
Later that year, through generous donations from US and Canadian Armenians, Landmine Free Artsakh and Armenia Fund raised $35,000 for the clearance of a Karegah village minefield in the Lachin region. Clearance began in August and so far 11 anti personnel landmines have been found and destroyed. It has been estimated that the clearance will be completed at the end of 2014.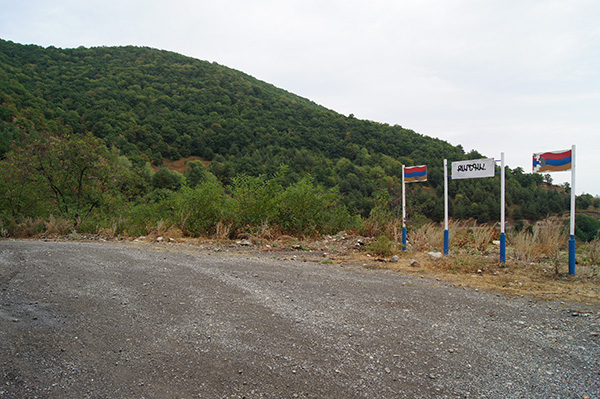 The next project for Landmine Free Artsakh is to raise $100,000 for the clearance of the village of Govshatly in the Northern Hadrut region. The road to the edge of the village is mined, as is one of the upper fields adjoining the road. When the minefield is cleared, 709 people from three villages will be able to travel safely and 43 acres of land will be returned to the people of Govshatly for farming.
In order to raise awareness and funds to prevent such accidents, the Landmine Free Artsakh Committee has organized the following events in the Los Angeles area and is urging the community to attend and to contribute. Gala Danilova, who is the speaker at these events, is an Armenian living in Stepanakert and has worked for the HALO Trust for 12 years. She currently is the Head of Finance for HALO in Artsakh.
Upcoming Events:
Wednesday November 19, 2014 at 6 PM, Presentation by Gala Danilova at UCLA Haines Hall, Room A25, part of The UCLA ASA Artsakh Awareness Week
Thursday November 20, 2014 at 12:30 PM, Presentation by Gala Danilova organized by Dr. Levon Marashlian in Glendale Community College, Room LB 220
Sunday November 23, 2014 at 4 PM, Presentation by Gala Danilova, sponsored by the Ararat-Eskijian Museum, Sheen Chapel, 15105 Mission Hills Road, Mission Hills, CA
For more information please visit LandmineFreeArtsakh.com or email [email protected].