STEPANAKERT — Armenian President Serzh Sarkisian has warned Azerbaijan against going to war against Nagorno-Karabakh in the wake of a major incident in the conflict zone that involved the shooting down of an Armenian military helicopter by Azeri forces.
Azerbaijan will not dare to pursue a military solution to the Nagorno-Karabakh conflict any time soon, Sarkisian said on Friday at the end of biggest ever Armenian military exercises.
Sarkisian heaped praise on tens thousands of soldiers that have reportedly practiced military operations in and around Karabakh for the past nine days."You have demonstrated strong combat skills, a strong will and devotion to the homeland," he told some of the participating troops lined up at a shooting range east of the disputed territory.
In his speech the Armenian president also praised the military for their good service, saying "Your professionalism is making many naïve people living in Azerbaijan change their views about war. They thought that fighting against Karabakh and Armenia would be a short and pleasant pastime. Something like a flash mob."
"No, there will be no flash mobs," he went on."There will be no fun and no walkover. I am sure that there will be no war either because you are, because you are strong, and because you are standing here."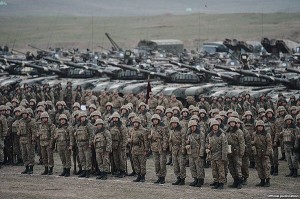 Sarkisian, who wore a military uniform, addressed them on the second day of his latest visit to Karabakh during which he oversaw the exercises organized by the closely integrated armed forces of Armenia and Karabakh. According to the military authorities in Yerevan and Stepanakert, the drills involved some 47,000 soldiers and hundreds of tanks, armored personnel carriers and artillery systems. Armenian state television showed some of those tanks and helicopter gunships firing live rounds at nearby hills during an offensive operation simulated by the military.
In Stepanakert also, Armenian Defense Minister Seyran Ohanian vowed to retaliate strongly against Azerbaijan for shooting down the helicopter.
"What happened was unfortunate for us and impudent of them. We will undoubtedly deliver a proportionate — and even a bit disproportionate — answer to their actions," he told reporters .
Ohanian's first deputy, Davit Tonoyan, similarly spoke of "collateral damage" which he said the Azerbaijani military will suffer as a consequence of the "new form of ceasefire violation." "By collateral damage I mean Armenian forces' possible actions in response to the downing of the helicopter and, of course, the risk of disrupting the negotiation process and nullifying efforts to strengthen the ceasefire," he said in written remarks released in Yerevan.
Neither Ohanian nor Tonoyan elaborated on the retaliatory actions planned by the Armenian side. General Movses Hakobian, the commander of the Karabakh Armenian army, would also not be drawn on them. "It's up to the army to decide what actions we will take," Hakobian said.