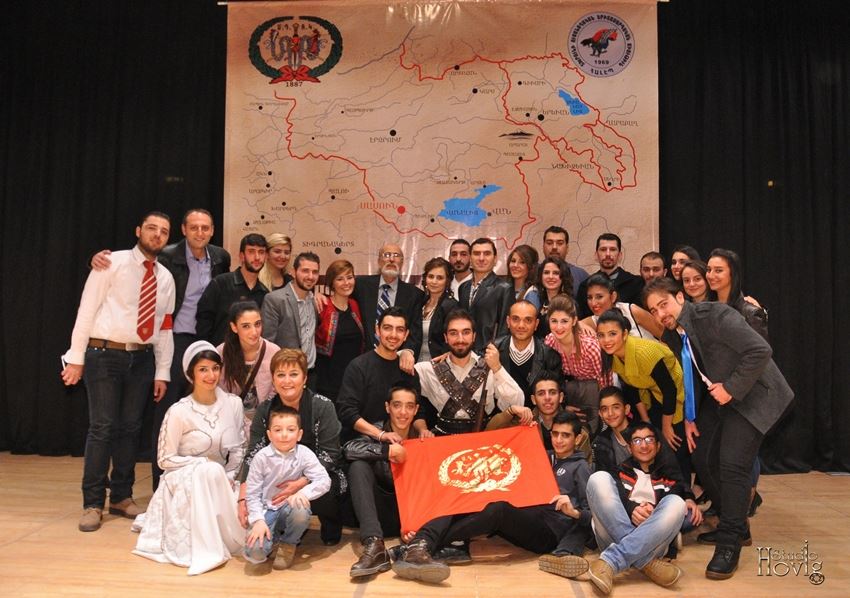 On Sunday November 9th, more than 600 members of Aleppo's Armenian community commemorated the 120th anniversary of the Sassoun Resistance. The Sassoun resistance of 1894, organized by the Social Democrat Hunchakian Party and led by its activists Mihran Damadian, Hampartsoum Boyadjian (Metzn Mourad) and Armenak Ghazarian (Hrayr Dzhoghk), was the first notable battle in the Armenian resistance movement against Ottoman and Kurdish oppression and lack of government representation of the predominately Armenian inhabitants of the region.
The commemoration, held in Aleppo's Yeseyan Hall was organized by the Social Democrat Hunchakian Party's Sarkis Dkhrouni Student/Youth Union who were not only able to mobilize Aleppo's S.D. Hunchakian Party's various sub-branches to participate but was attended by representatives of all of the various Armenian organizations still active in Aleppo.
The Lion's share of the commemoration was a theatrical performance directed by Mr. Hakop Gulvartian, contrasting the mindset and actions of Sultan Hamid and his assistants on the one hand, and Metzn Murad and his fellow fedayees, on the other hand. The commemoration also included recitations of poetry, and personal/historical accounts to place context to the historical resistance, and Nationalistic and folk music and dances.
The organizers of the commemoration also took the opportunity to publicly honor individual members who have dedicated service to the SDHP, the Cilicia Armenian School in Aleppo and the entire Armenian community. The individuals honored were, Mr. Sarkis Zkoushian, Mr. Hakop Okgian, Mr. Jean Der-Kevorkian, Mr. Sarkis Kouzuyan, Mr. Hakop Abejian, Mr. Raffi Pakarian and Miss Anais Zamanian.
The closing statements were delivered by the president of the Armenian Evangelical Community in Syria, Reverend Haroutioun Selimian, who not only praised the organizers for commemorating such a historical event in Armenian history, but by doing so within the confines and obstacles the Armenian community of Aleppo faces today. The Reverend also praised the strong and prevailing unity of the Aleppo Armenians, and the need to persevere, maintain and restore Aleppo.