YEREVAN — After spending more than a year in Azerbaijani captivity and having been transferred to a third country, released Armenian prisoner of war Hakob Injighulian returned to Armenia early on Thursday.
Injighulian received a hero's welcome from his relatives and friends at Yerevan's Zvartnots airport. The 23-year-old appeared in good health and high spirits. He claimed, though, to have been tortured and intimidated during his yearlong captivity in Azerbaijan.
"It's great to be back in Armenia," Injighulian told the press.
Injighulian mistakenly crossed into Azerbaijani-controlled territory east of Karabakh in August 2013. Shortly afterwards he was paraded on Azerbaijani television saying that he surrendered to Azerbaijani forces because of being ill-treated by one of his commanders.
The Armenian military said that the soldier was forced to make such statements under duress. It insisted that he crossed the "line of contact" around Karabakh by accident.
"In Azerbaijan, I stayed locked in a cell in a five-storey military prison. They were asking me about my service, politics. I said whatever they told me to say, I did it for my life, that's why I am here now," said Injighulian, adding that in the military prison where he was kept he also saw other Armenians, but said he would speak about it later on.
Injighulian said he was forced to put on an Azerbaijani army uniform and allege abuse at the hands of his Armenian commanders in his televised appearance.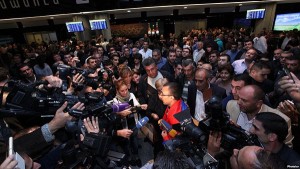 "There were beatings, humiliation, and verbal abuse. They said that 'if you don't do what we want you'll meet the fate of that shepherd,'" Injighulian said, referring to Manvel Saribekian, a 20-year-old resident of an Armenian border village who was found hanged in an Azerbaijani prison in 2010 just weeks after wandering into Azerbaijan.
According to Injighulian, Azerbaijani military authorities also warned him beforehand against disclosing key details of his treatment to representatives of the International Committee of the Red Cross (ICRC), who repeatedly visited him in custody. He claimed that Azerbaijani officials also threatened to kill him if he asks to be repatriated, rather than sent to a third a country.
"They threatened to shoot me," the soldier said. "I did all that for the sake of my life. That's why I'm standing here right now," he added.
Injighulian was flown from Azerbaijan to Romania in late August. He was reportedly kept in a Romanian refugee camp until returning home.
Just days after Injighulian crossed the Karabakh "line of contact" the Armenian military offered to exchange him for Firuz Farajev, an Azerbaijani soldier detained by Armenian troops on the border with Azerbaijan in July 2012. Farajev was unexpectedly freed and deported to a third country later in August 2013, after the Azerbaijani side turned down the offer.
Throughout Injighulian's captivity the Armenian authorities repeatedly assured his family that he will not be prosecuted in case of returning home. The former prisoner of war confirmed that he was informed about these assurances.
Injighulian's current legal status was not immediately clear. There were no uniformed military officials at Zvartnots during his arrival on a transit flight from Moscow.
The freed conscript expressed readiness to complete his two-year military service after undergoing a thorough medical examination. "There were nine months remaining until the end of my military service," he said. "I want to continue it."