YEREVAN. – Armenia will be included as a third party in the "Perincek v. Switzerland, App. no. 27510/08" case to be examined at the European Court of Human Rights (ECtHR).
Prosecutor General Gevorg Kostanyan, who is also the Armenian government's representative to the ECtHR, had petitioned to the court on July 20, and with a request that Armenia act as a third party in this case, informed the Prosecutor General's Office press service.
The ECtHR Grand Chamber on Friday approved Armenia's participation in the case.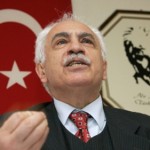 The respective court session is scheduled for January 28, 2015. Until then, however, Armenia will submit to the ECtHR Grand Chamber, and in writing, its position on this case. And during the session on January 28, it will have the opportunity to present its position in words.
Turkey likewise is included in this case as a third party.
The Government of Switzerland recently decided to petition that the Dogu Perincek case be referred for a review by the Grand Chamber of the European Court of Human Rights (ECtHR). On December 17, 2013, the ECtHR ruled in favor of Armenian Genocide-denying Turkish politician Dogu Perincek's lawsuit that was filed against Switzerland. The said judgment by the ECtHR was made on the grounds of freedom of speech. In 2008, a Swiss court had convicted Perincek for denying the Armenian Genocide. Dogu Perincek is Chairman of the socialist Workers' Party of Turkey. In addition, he heads the Talat Pasha organization, which actively fights against the Armenian Genocide's recognition in Europe.