NEW YORK — This Fourth of July, Carnegie Corporation of New York, its Board of Trustees and staff, celebrated naturalized citizens whose contributions have helped to make United States vibrant and strong.
As it has every year since 2006, the Corporation is honoring a group of distinguished immigrants and their achievements in its "Pride of America" full-page public service ad in The New York Times. The Corporation also salutes new and aspiring citizens on a companion website at greatimmigrants.carnegie.org.
"We owe the vitality, the progress and the hope we all have for the future of this nation to the contributions that each and every citizen has brought to the banquet table, including those who have come as immigrants, either recently or in the distant past," said Vartan Gregorian, President of Carnegie Corporation of New York and a naturalized citizen. "Andrew Carnegie was perhaps the best export of Scotland to the United States, who subsequently became one of the champions of American democracy and philanthropy."
The 2014 "Pride of America" honorees, 41 immigrants from more than two dozen countries, are leaders in a range of fields. They include Microsoft CEO Satya Nadella, U.S. Ambassador to South Africa Patrick Gaspard, authors Reza Aslan and André Aciman, Carnegie Mellon University President Subra Suresh, Administrator of the U.S. Small Business Administration Maria Contreras-Sweet, Nobel Prize Winner in Medicine Roger Guillemin; musicians Tan Dun and Dave Matthews, actress Sara Ramirez, actor/comedian Aasif Mandvi, and fashion designers Vivienne Tam and Carolina Herrera.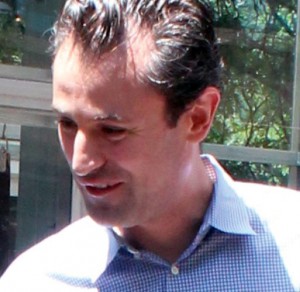 One of this year's honorees is Arsen Avakian. Born in Armenia, Avakian came to the U.S. on a Fulbright scholarship to study business. Noting that Americans hardly seemed to know tea beyond Lipton tea bags, he opened a small tea shop called Argo Tea Cafe across the street from a Starbucks in Chicago, serving unique teas and "teapuccinos." Gaining immediate popularity, the business has since opened numerous locations worldwide and continues to grow. It has also expanded to produce bottled iced teas that are sold in major retail chains such as Whole Foods.
A list of the 2014 honorees and their countries of origin is below:
André Aciman, Author (Egypt/Italy)
Einat Admony, Chef/Restaurateur (Israel)
Reza Aslan, Author/Religion Scholar (Iran)
Roy L. Austin, former U.S. Ambassador to Trinidad and Tobago (St. Vincent and the Grenadines)
Arsen Avakian, CEO and Cofounder, Argo Tea (Armenia)
Ralph Baer, National Medal of Technology and Innovation Winner, Inventor (Germany)
Rosemary Barkett, Judge, Iran-United States Claims Tribunal (Mexico)
Rudolph Boschwitz, Former U.S. Senator from Minnesota (Germany)
Andrés Cantor, Sportscaster (Argentina)
JuJu Chang, Journalist (South Korea)
Steve Chen, Entrepreneur in Residence, Google Ventures (Taiwan)
Maria Contreras-Sweet, Administrator, U.S. Small Business Administration (Mexico)
Tan Dun, Composer/Conductor; Global Goodwill Ambassador UNESCO (China)
Patrick Gaspard, U.S. Ambassador to South Africa (Democratic Republic of Congo)
Ivar Giaever, Nobel Prize Winner, Physics (Norway)
Sophia Grojsman, Perfumer (Belarus)
Roger Guillemin, Nobel Prize Winner, Medicine (France)
Carolina Herrera, Fashion Designer (Venezuela)
Manuela Hoelterhoff, Executive Editor, Bloomberg Muse at Bloomberg (Germany)
Jacques Jiha, Commissioner, NYC Dept. of Finance (Haiti)
Joyce Kennard, Retired Associate Justice, California Supreme Court (Indonesia)
Daniel Dae Kim, Actor (South Korea)
Rich Little, Impressionist/Actor/Comedian (Canada)
Aasif Mandvi, Actor/Comedian (India)
Dave Matthews, Singer-songwriter (South Africa)
Satya Nadella, CEO, Microsoft (India)
Yoichiro Nambu, Nobel Prize Winner, Physics (Japan)
Masi Oka, Actor (Japan)
Neri Oxman, Vilcek Prize Winner, Design (Israel)
Gholan Peyman, National Medal of Technology and Innovation Winner, Ophthalmologist (Iran)
Elena Pirozhkova, Olympic Wrestling Champion (Russia)
Sara Ramirez, Actress (Mexico)
Pardis Sabeti, Vilcek Prize Winner, Biomedical Science (Iran)
Beheruz Sethna, Former University President (India)
Shimon Shmueli, Inventor (Israel)
Maria Siemionow, Scientist/Microsurgeon (Poland)
Subra Suresh, President, Carnegie Mellon University (India)
Vivienne Tam, Fashion Designer (China)
David Tran, CEO, Huy Fong Foods (Vietnam)
Louis van Amstel, Dancer/Choreographer (Netherlands)
Lillian Vernon, Founder, Lillian Vernon Corporation (Germany)