YEREVAN — One person was killed and at least three injured when their car hit a mine in the Kashatagh Province of Nagorno-Karabakh Republic (NKR) on July 22.
The Armenian Ministry of Emergency Situations confirmed that a Toyota Prado was blown up near the village of Vaghazin in the Kashatagh district early on Tuesday.  NKR authorities say those injured include Ruben Khlgatian, the mayor of the western Armenian city of Armavir. The car's driver was killed in the explosion.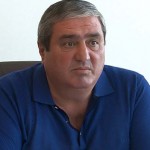 The injured were transported to a medical center in the Armenian capital, Yerevan.
The health conditions of Mayor Ruben Khlgatian and other two injured is assessed as serious, but stable. The Press Service of Yerevan's Erebuni medical centre confirmed that all the three patients have been taken to the intensive care unit. According to the official, the injuries sustained by the survivors are not life-threatening.