YEREVAN — Russian Foreign Minister Sergei Lavrov arrived in Armenia on Sunday on a two-day visit to discuss Armenia-Russia relations, including Armenia's membership in the Eurasian Economic Union, Karabakh conflict resolution and Armenian-Turkish relations. Lavrov held separate talks with his Armenian counterpart, Edward Nalbandian and President Serzh Sarkisian.
Speaking with reporters in the Armenian capital Lavrov said he and Nalbandian had discussed Armenia's integration into Eurasian Economic Union (EES) structures, as well as the two countries' cooperation within regional and international organizations.
"There are grounds for NagornoKarabakh conflict resolution, today it is important to develop steps and clarify the order of those steps," the Russian minister told reporters.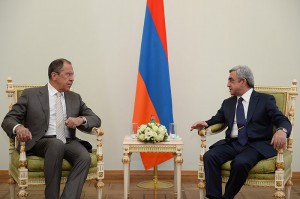 Emphasizing that Russia supports all OSCE Minsk Groupmember state suggestions, he mentioned that negotiations started last year must continue, "The more frequent the presidents' meetings become, the more intensive the negotiations process will be,"Lavrov said.
Armenian Foreign Affairs Minister Edward Nalbandian added in his turn that, nevertheless, in Azerbaijan they are not exactly willing to discuss and carry out the suggestions of Minsk Group co-chairs regarding the Karabakh conflict.
"Baku is not happy about the suggestions made by co-chairs regarding the conflict resolution, such as eliminating snipers from the front line, or developing mechanisms for investigating borderline occurrences," Nalbandian said at the conference reflecting on French President Hollande'ssuggestion about meetings on the presidential level.
Speaking about the normalization of Armenian-Turkish relations, Sergey Lavrov said "Russia is ready to support the process."
"Both before and after the signing of the Armenian-Turkish protocols we have expressed our willingness to make our contribution to the process in the format that will suit Armenia and Turkey. There were ideas to implement infrastructure projects that could unite the nations, countries and adjacent regions. All this remains in force, but the primary role here belongs to the two counties that have signed the protocols. We are ready to provide every support to their implementation," Lavrov said.
The Russian Foreign Minister briefed President Sarkisian on the results of his meeting with his Armenian counterpart. He said they referred to a wide range of issues related to Armenian-Russian cooperation within the framework of international organizations – the UN, the OSCE, the Council of Europe, the Black Sea Economic Cooperation Organization and others.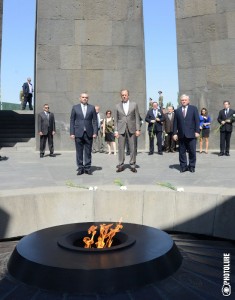 The Armenian President and the Russian Foreign Minister discussed the process of implementation of high-level agreements in all directions and outlined the future steps targeted at reinforcement of multifaceted cooperation.
On Monday, Lavrov visited the Tsitsernakaberd Genocide Memorial today accompanied by Armenian Foreign Minister Edward Nalbandian.
Mr. Lavrov laid a wreath at the memorial and honored the memory of the Armenian Genocide victims with a minute of silence.