YEREVAN — French President Francois Holland arrived in the Armenian capital on the second leg of his tour of the three South Caucasus states which he began in Baku on Sunday. He and his Armenian counterpart, Serzh Sarkisian, opened a French-Armenian business forum immediately after a welcoming ceremony held at the Zvartnots international airport.
Hollande stated that the European Union should upgrade its relationship with Armenia to political "association" despite Yerevan's plans to join the Russian-led Customs Union.
"We are not forcing Armenia to make a choice that runs counter to Armenia's interests. I spoke with Serzh Sarkisian about that during his visit to France [last autumn,]" Hollande told the forum attended by several dozen French businesspeople.
"We need to devise a Europe-Armenia association that would not constrain you with regard to the Customs Union plans that you have with Russia," he said. The EU and Armenia can work out a model for such association, he added.
Hollande's remarks suggest that the Armenian government might now count on French support for the idea. Sarkisian insisted on it in a speech at an EU summit in Dublin held late last month. He said his country must not be made to "pay a price" for moving even closer to Russia.
France has traditionally been a key EU backer of Armenia, owing, in large measure, to the existence of a large and influential French-Armenian community. Hollande underscored the community's clout later on Monday when he attended with Sarkisian a concert of French-Armenian singer Charles Aznavour. The two presidents will inaugurate on Tuesday a small park in Yerevan renamed after Missak Manouchian, a prominent member of the French Resistance movement executed by the Nazis in 1944.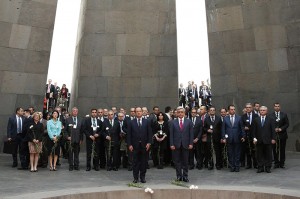 Presidents Sarkisian and  Hollande visited Tsitsernakaberd Memorial Complex, laid a wreath at the memorial to the victims of the Armenian Genocide and placed flowers at the eternal fire .
The French President also planted a fir tree at the Memory Park of the Memorial Complex.