YEREVAN — Armenia's decision to join the Russian-led Customs Union will not have an adverse impact on relations with neighboring Georgia, President Serzh Sarkisian and his visiting Georgian counterpart Giorgi Margvelashvili said after talks on Thursday.
Georgian President Giorgi Margvelashvili has arrived in Armenia for a two-day official visit at the invitation of Armenian President Serzh Sarkisian.
Margvelashvili met Sarkisian as he made his first official visit to Yerevan since succeeding Mikheil Saakashvili as Georgia's president last November.
Implications of Armenia's impeding membership of the Customs Union of Russia, Belarus and Kazakhstan were apparently high on the agenda of the talks. Sarkisian said he briefed Margvelashvili on reasons for his decision last August to seek such membership. He seemed to single out the economic dimension of joining a trade bloc which Moscow plans to transform into a Eurasian Union next year.
"We both are of the opinion that the choices of our countries related to our economic development must never impede our economic cooperation," Sarkisian told a joint news conference. "To put it more simply, we believe that Armenia's decision to join the Customs Union and Georgia's decision to sign a free-trade agreement with the European Union will not hamper our economic relations."
"On the contrary, these decisions are opening up new opportunities for our businesspeople," he said, adding that a Georgian-Armenian economic task force will hold its first meeting in Yerevan next month.
"We have different political vectors but identical positions on developing our ties," Margvelashvili said, for his part. "Changes will only be positive. We will do everything to deepen and develop our relations."
The two Presidents voiced confidence that the 10th sitting of the Armenia-Georgian Inter-Governmental Commission to be convened in Yerevan will provide an opportunity to discuss the process of implementation of earlier agreements and outline the perspectives of bilateral economic cooperation.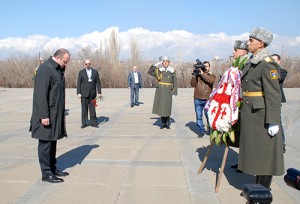 Margvelashvili visited Tsitsernakaberd Memorial accompanied by the high-ranking officials of Armenia and Georgia. The Georgian delegation laid a wreath at the Armenian Genocide memorial and paid tribute to the memory of the victims.
President Margvelashvili planted a fir tree at the Memorial Alley of Tsitsernakaberd Memorial Complex.