YEREVAN — State officials, opposition figures and civic activists in Armenia have condemned authorities in Russia for what they see as a humiliating and xenophobic treatment of an Armenian truck driver who was involved in a bus crash near Moscow that left 18 people dead.
Dozens of other people were injured when a reportedly battered truck driven by Hrachya Harutiunian, an Armenian citizen working in Russia, collided with a packed commuter bus outside the Russian capital on Saturday. 46-year old Harutiunian is a Artsakh war hero.
The Russian police said immediately after the accident that they believe the truck, which was carrying gravel, failed to give way and turned onto the main road. They launched criminal proceedings against Harutiunian for causing multiple deaths through violating traffic rules.
Russian state television and other media outlets were also quick to blame Harutiunian. Some legal experts and journalists in Moscow suggested, however, that technical faults may have caused the disastrous crash. They said the still unknown owner of the old truck, rather than the driver, may therefore be primarily responsible for the tragedy.
Harutiunian was taken to a court in Moscow to face criminal charges on Monday. Television pictures showed him sitting in a cage, clad in a woman's housecoat and wearing slippers. The 46-year-old was unable to utter any words, having apparently still not recovered from post-traumatic shock. A Russian state TV report derided his "mooing" and accentuated on his ethnic origin.
The images caused outrage in Armenia, with critics accusing the Russian authorities of violating the presumption of innocence and fanning negative popular attitudes towards migrant workers from the South Caucasus and the Russian North Caucasus. The Armenian human rights ombudsman, Karen Andreasian, expressed serious concern in a letter to his Russian counterpart on Tuesday.
Parliament speaker Hovik Abrahamian issued a statement on Wednesday to deplore Harutiunian's "inadmissible and inhuman" treatment in the court and demand that those responsible for it be held accountable. Abrahamian also urged Russian authorities to conduct an objective investigation.
"Foreigners must understand that they can't infringe on the Armenian people's self-esteem," said Galust Sahakian, another senior pro-government lawmaker. "That could have very bad consequences."
Opposition politicians condemned Harutiunian's treatment in even stronger terms. One of them, Zaruhi Postanjian of the Zharangutyun party, claimed that it reflected Russia's "state approach" to Armenians and other people from the Caucasus.
Avetik Ishkhanian, a veteran human rights campaigner, likewise said that the Russian police adopted a "clear political position" ordered by the Kremlin. He said the Russians showed more respect for Chechen militant leaders captured and tried by them during the secessionist war in Chechnya.
The Armenian government was also criticized for its cautious official reaction to Harutiunian's arrest. Postanjian accused it of doing little to defend the Armenian citizen.
"One gets the impression that Armenia's citizens [in Russia] are unprotected," Samvel Martirosian, a prominent Armenian blogger, complained during a roundtable discussion in Yerevan. He specifically laid the blame on the Armenian Foreign Ministry.
The ministry reported later on Wednesday that diplomats from the Armenian Embassy in Moscow have met with Harutiunian in custody. It said the arrested driver assured them that his prison conditions are "normal" and that he is receiving adequate medical care. A ministry spokesman said earlier that embassy officials keep in touch with Harutiunian's Russian lawyers.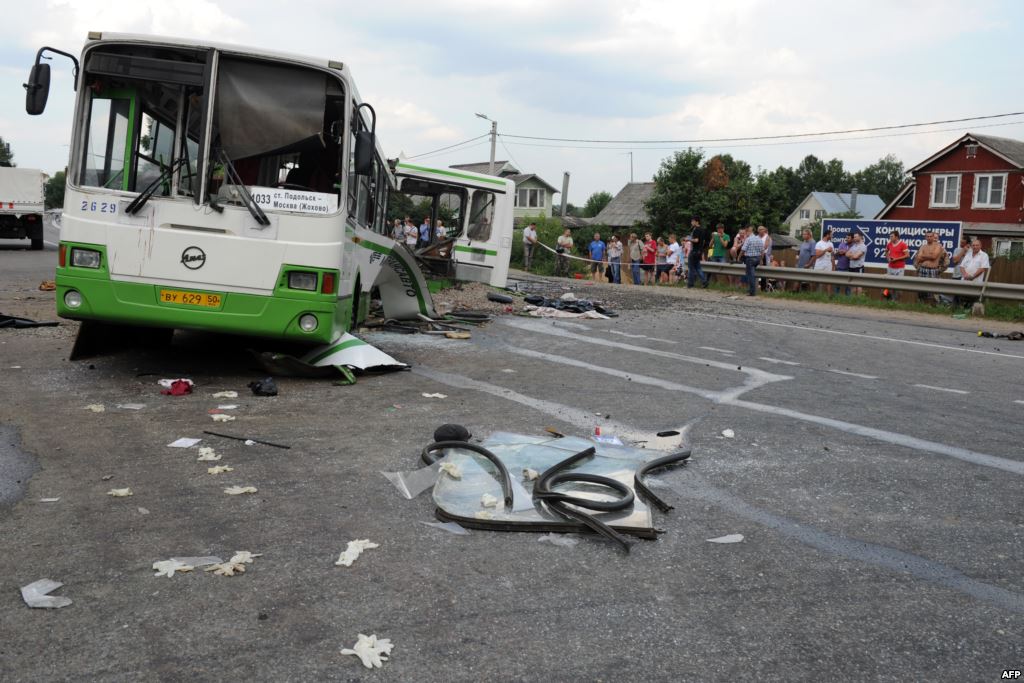 Meanwhile, the Russian Embassy in Yerevan assured Armenians that the investigation into the deadly accident will be "impartial, comprehensive and meticulous." In a statement, the embassy also accused "certain individuals" of exploiting the affair to whip up anti-Russian sentiment in Armenia.
"We consider totally inappropriate attempts to use that great human tragedy for political purposes and to undermine Russian-Armenian relations. Politicized evaluations made on order are unacceptable. The tragedy which took place near [the Russian city of] Podolsk had no ethnic implications," read the statement.
Several dozen angry Armenians protested outside the embassy on Tuesday and Wednesday. There was also a similar demonstration outside the Russian Consulate in Gyumri.
The uproar could deal a further blow to the traditionally strong pro-Russian sentiment in Armenia. Russia already faced unusually strong criticism from Armenian political, media and civic circles after it emerged last month that it has begun delivering around $1 billion worth of offensive weapons to Azerbaijan.
Russian officials insisted afterwards that the arms deal with Armenia's arch-foe will not undermine the military balance in the Nagorno-Karabakh conflict. The Armenian government also downplayed the deal, implying that it will be offset by continued Russian arms deliveries to Armenia.