YEREVAN — The USAID-funded Enterprise Development and Market Competitiveness (EDMC) Project, in cooperation with the U.S. Embassy in Armenia and the Armenian Ministry of Justice, held a high-level conference on Alternative Dispute Resolution (ADR) system reforms. The event was attended by Armenian judges, two prominent American federal district judges, and representatives of the Armenian business community.
The conference followed the official signing of a letter of intent on July 11 between the USAID/EDMC Project and the Ministry of Justice, in which the parties pledged mutual cooperation and support in developing Armenia's ADR system to offer Armenian businesses and consumers an alternative to traditional litigation.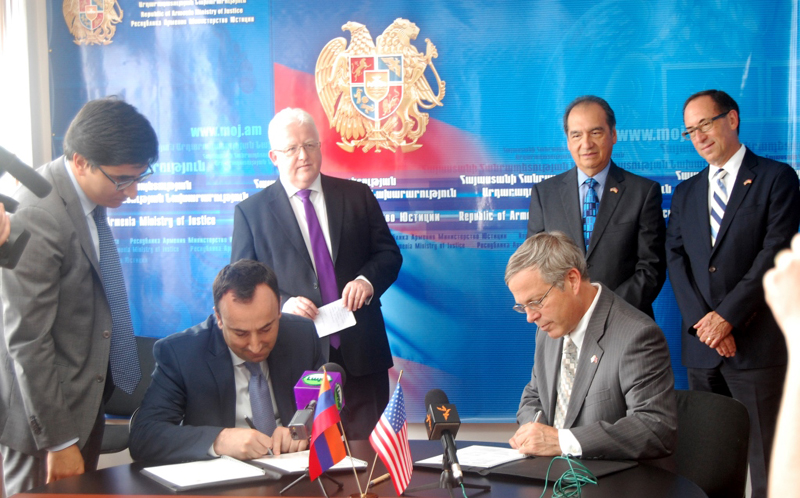 Through the EDMC project, USAID will support the Ministry of Justice in drafting of primary and secondary legislation and conducting public hearings and roundtable discussions with stakeholders. The activities will not only seek to improve the system but also to raise public awareness of the reforms and to build the confidence of the business community in the ADR system.
The purpose of the conference was to discuss ADR reforms in Armenia as part of the business enabling reforms agenda, share the American approach to ADR and conduct a mock arbitration and mediation. Deputy Minister of Justice Yeghishe Kirakosyan and USAID Armenia Mission Director Karen Hilliard delivered opening remarks emphasizing the benefits of ADR for the economy, businesses and Armenian consumers.
The representative of the U.S. Department of Justice in Armenia and U.S. Federal District Judges Ricardo Martinez and Robert Lasnik presented the American approach to ADR as an international best practice. Participants also heard from Thomas Margiotti, an American attorney and an arbitrator/mediator, who offered a practical guide to arbitration and mediation and commented on the mock arbitration and mediation sessions.