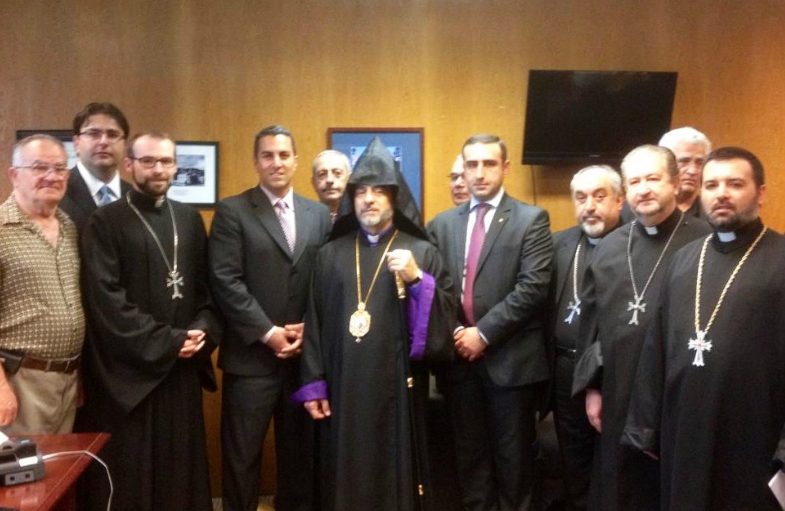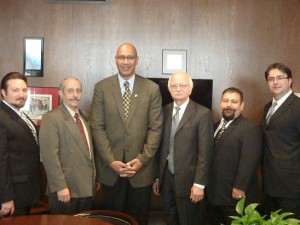 SACRAMENTO, CA – A delegation from the Armenian Council of America (ACA) participated in the annual State Armenian Genocide Commemoration Ceremony held by the California Senate and Assembly at the State Capitol and met with elected officials to discuss issues of importance for all Armenian-American communities throughout the Golden State.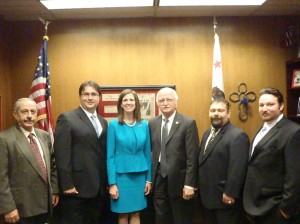 The annual event, sponsored by Assemblymembers Mike Gatto (D-Los Angeles) Khatcho Achadjian (R-San Luis Obispo) and Adrin Nazarian (D-Van Nuys), marks the 98th Anniversary of the Armenian Genocide. It began with a requiem prayer delivered by H.E. Archbishop Hovnan Derderian of the Western Diocese of the Armenian Church of North America reminding the audience of the atrocities of 1915 and reiterating the importance of recognizing genocide as a means of preventing it from taking place in the future. He also prayed for the victims who lost their lives in the explosion at the Boston Marathon earlier that day.
In continuing the annual custom, Assemblyman Gatto's Assembly Joint Resolution 2, designated April 15-19, 2013 the "Week of Remembrance for the Armenian Genocide of 1915-1923," calling upon Congress and President Obama to officially recognize the Armenian Genocide. Following were proclamations read by various members of the State Senate and State Assembly who reaffirmed their longstanding support of the Armenian community and the Armenian Cause.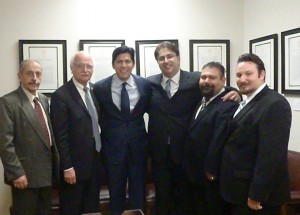 The program ended with a reception hosted by the State Assembly where Armenian-Americans from all over California came together to mingle with their State representatives, as well as meet other activists and community leaders. ACA Board Members, along with Rev. Fr. Asoghig Jamgotchian and a delegation of Armenian-Americans from throughout California shared and exchanged ideas and proposals with several elected officials representing various pockets of constituencies with significantly large to sizable populations of Armenian-Americans.
"This annual event is an important reminder of the importance of remaining active citizens and participating in civic affairs," ACA Chairman Sevak Khatchadorian said. "For Armenian-Americans to get official recognition of the Armenian Genocide, we must unite in solidarity and continue to advocate our cause to our elected representatives. The only way to achieve progress is to participate in government and I'm very pleased that the ACA has been instrumental to the success of the State Commemoration Ceremony for many years and we are committed to continuing that tradition."
The Armenian Council of America is dedicated to educating the Armenian-American community in local political affairs, as well as actively pursuing Armenian-American participation in their respective local governments, to support political candidates who share the values of the Armenian American community.