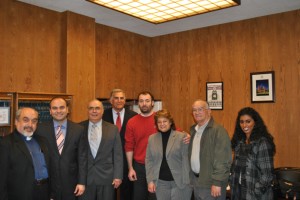 Western Diocese Armenian Church delegation congratulated the newly elected Assemblymember Adrin Nazarian (46th district, Van Nuys, D) and Assemblymember Jim Patterson (23rd district, Fresno, R). Reverend Fr. Asoghig Jamgochian (Parish Priest of St. James Armenian Church of Sacramento), Deacon Daniel Aydenian (Holy Cross Armenian Church Turlock), Yereskin Sona Jamgochian, Manoug Guederian, Nelson Afian and Karuna Koppula visited the State Capitol.
The delegates also paid a visit to some other assemblymembers such as Assemblymember Mike Gatto (43rd district, Los Angeles, D), Assemblymember Connie Conway(35th district, Visalia, R), Assemblymember Katcho Achadjian (35th district, San Luis Obispo, R) and Senator Tom Berryhill (14th Senate district, Modesto, R).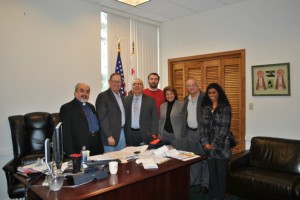 All the assemblymembers and the Senator welcomed the Armenian delegates with open arms. Revered Fr. Asoghig and Deacon Daniel gave the hosts a book on behalf of His Eminence Archbishop Hovnan Dederian. The delegates then left each office after getting the promise of the assemblymembers and Senator to support the Armenian community in any way they can.