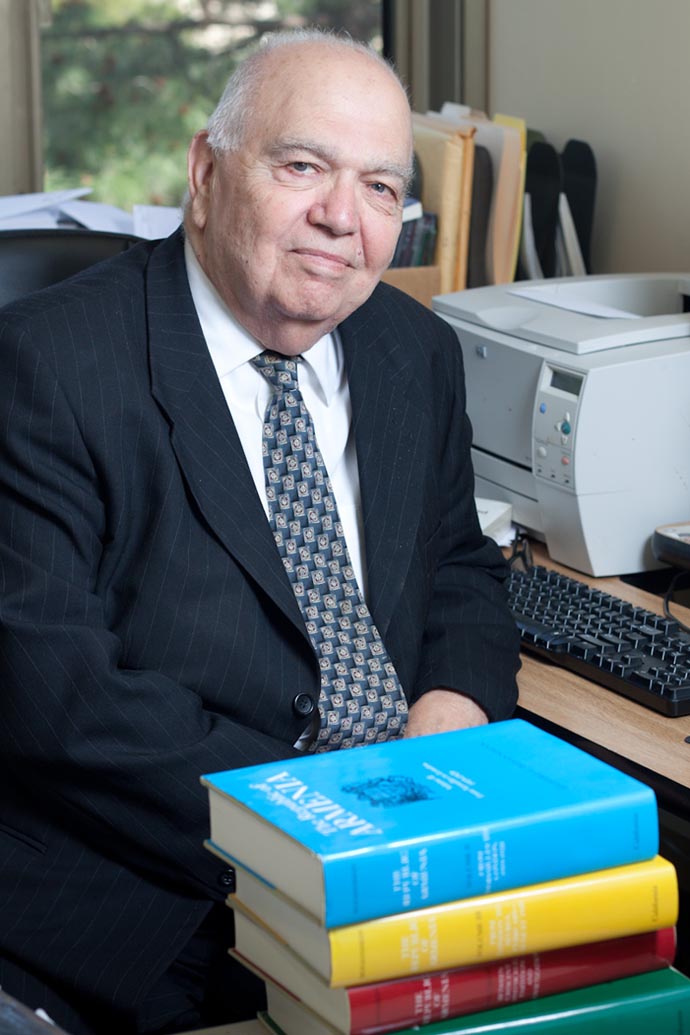 Event will benefit expansion of Armenian language and culture studies
LOS ANGELES — The Friends of the UCLA Armenian Language and Culture Studies will honor Professor Emeritus Richard Hovannisian at its 11th annual banquet, which will be held on the evening of Saturday, March 16, at the Armenian Society of Los Angeles Hall, in Glendale, California.
One of the world's foremost Armenian scholars, Hovannisian will be presented with the Narekatsi Medal of Achievement during the banquet, in recognition of his outstanding contributions to Armenian historiography, Armenian studies as a whole, and the defense of human and civic rights.
"It is a distinct privilege to confer the Narekatsi Medal on Dr. Hovannisian," said Hasmig Baran, president of the Friends of the UCLA Armenian Language and Culture Studies. "His pioneering research, extraordinary erudition, and passionate activism have inspired generations of students to embrace Armenian studies as a rich, vibrant discipline."
Hovannisian has taught at UCLA for 50 years, starting in 1962. He was the first holder of the university's Armenian Educational Foundation Endowed Chair in Modern Armenian History, which he served from 1987 until his retirement in 2011. The chair has since been renamed the Richard Hovannisian Chair in Modern Armenian History.
Hovannisian is the author of several landmark volumes on modern Armenian history, as well as the organizer of the UCLA conference series "Historic Armenian Cities and Provinces," launched in 1999. Hovannisian is also a Guggenheim Fellow and the recipient of many awards, including the Movses Khorenatsi Medal.
The March 16 banquet will kick off with a cocktail reception and book exhibit, followed by dinner and culminating in the award-conferment program. Steered by Master of Ceremonies Alice Petrossian, the program will feature a short film on Hovannisian's life and works; a live interview with the honoree, conducted by Ara Khachatourian, English-section editor of Asbarez; as well as remarks by Hasmig Baran; S. Peter Cowe, Narekatsi Professor of Armenian Studies at UCLA; Professor David Myers, chairperson of the UCLA History Department; Speros Vryonis, UCLA professor emeritus of history; and the honoree's son, Armen Hovannisian, in addition to remarks delivered by Richard Hovannisian himself. The program will include a performance by violinist Mari Haig.
Proceeds from the event will benefit the Narekatsi Chair in Armenian Studies and its Visiting Professorship Program, through which outstanding visiting professors are hired yearly to both augment and complement Armenian-studies courses offered by resident experts.
"In the past three decades, UCLA has become one of the globe's primary centers for Armenian studies," said Professor S. Peter Cowe, who has led the Narekatsi Chair since 2000. "This singular achievement is due equally to the intellectual curiosity of students, the ability of professors such as Dr. Hovannisian to inspire and help prepare fresh cadres of young scholars, and the support of the Armenian community, as exemplified by the Friends of the UCLA Armenian Language and Culture Studies."
Contact information: (323) 668-2609 or (818) 249-3330.