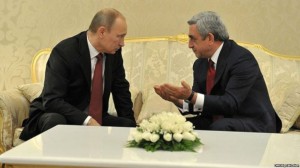 MOSCOW — President Serzh Sarkisian and his Russian counterpart Vladimir Putin met on the sidelines of a summit of former Soviet republics in Turkmenistan on Wednesday as their governments continued to discuss Armenia's possible involvement in a Russian-led customs union.
Official Armenian and Russian sources gave no details of the meeting. Sarkisian's press office said only that the two presidents discussed "a number of issues on the agenda of Russian-Armenian strategic relations."
The RIA Novosti news agency quoted Putin's press secretary Dmitry Peskov as saying that the Russian leader spoke about "integration processes" in the Commonwealth of Independent States (CIS) at his separate meetings with Sarkisian as well as the presidents of Ukraine and Kazakhstan.
Putin referred to "our integration efforts" in a speech delivered at the CIS summit held in Turkmenistan's capital Ashgabat. "I mean the Customs Union, the Common Economic Space in the first instance," he was reported to say." "We will welcome all those states that will express a desire and be prepared to join these integration structures. I repeat, will both express a desire and be prepared."
The Customs Union currently consists of Russia, Belarus and Kazakhstan. Moscow makes no secret of its desire to expand this structure and eventually turn it into a closely-knit Eurasian Union of ex-Soviet states.
Armenia has until now been reluctant to join the Customs Union, citing the absence of a common border with any of its three member states. Putin and Sarkisian discussed the matter when they met in Moscow in August. Putin said after those talks that the Russian and Armenian governments will form a work group to explore ways of Yerevan's possible involvement in the bloc.
Top Russian officials actively promoted the Eurasian Union during visits to Yerevan this summer, fuelling media speculation that the Armenian government is under growing pressure to embrace the idea.
In a related development, Viktor Khristenko, the Russian head of the Eurasian Economic Commission, the Customs Union's governing body, visited Yerevan and met with Prime Minister Tigran Sarkisian on Wednesday. An Armenian government statement said he briefed Sarkisian on "processes taking place within the framework of the Customs Union."
The Armenian premier, for his part, told Khristenko that his government is holding successful negotiations with the European Union on a far-reaching free trade deal and plans to complete them next year, said the statement. "The prime minister pointed out that Armenia is interested in integration processes and regards them as complementary," it added.
Tigran Sarkisian said Armenia must "deepen and expand ties with the Eurasian Union" when he addressed the Armenian parliament later in the day. Yerevan will therefore increasingly "cooperate" with the Customs Union, he said.
The premier stopped short of explicitly calling for Armenia's accession to the Russian-lead union, however. He has repeatedly spoken out against this possibility before.
President Sarkisian held talks with Putin less than a week after hosting a summit in Yerevan of the leaders of Armenia, Georgia and Moldova. The summit, which was also attended by European Commission President Jose Manuel Barroso, focused on efforts by the three ex-Soviet states to integrate more closely with the EU through "association agreements" currently negotiated with Brussels.