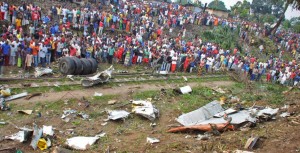 BRAZZAVILLE — A cargo plane owned by a private company crashed Friday near the airport in Brazzaville, the capital of the Republic of Congo, killing at least 25 people including seven crew members, officials said.
The Soviet-made Ilyushin-76 belonged to Trans Air Congo and appeared to be transporting merchandise, not people. The plane was coming from Congo's second-largest city, Pointe Noire, and tried to land during heavy rain, he said.
Five of the crew members were identified as Armenian citizens. They are Varazdat Balasanyan, the captain of the aircraft, born October 10, 1949, Ara Tovmasyan, Tadevos Hovhannisyan, Andranik Gevorgyan and Edgar Avetyan.