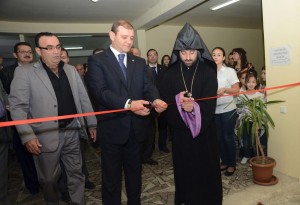 YEREVAN — The "Guiligian" School opened its doors for for 220 Syrian Armenian children at primary school N 14 named after Nar Dos in Yerevan on October 9, where they will receive their education based on Syrian state curriculum.
The school has been launched at the initiative of the Guiligian Benevolent Organization with the cooperation of Armenia's Ministry of Diaspora in order that children who have fled the fighting in Syria not fall behind in their schooling.
The school will offer a Syrian curriculum developed as a result of discussions between the Ministries of Diaspora, Education as well as Syrian teachers invited to Armenia to work out the optimal educational conditions. The principal of the new school is Nora Pilibosian who has extensive experience as a teacher at Guiligian College in Aleppo.
The opening ceremony was attended by Primate of the Damascus Diocese of the Armenian Apostolic Church Bishop Armash Nalbandian, Mayor of Yerevan Taron Margaryan, Temporary Charge d'Affaires of the Embassy of the Syrian Arab Republic in Armenia Mamun Hariri, Chief of Staff of the RA Ministry of Diaspora Firdus Zakaryan, RA Deputy Minister of Education Manuk Mkrtchyan, the new school administraters, parents and educators.
Welcoming the opening of the school, Primate Nalbandian wished a peaceful and productive academic year to everyone.
In July 2012, the RA Ministry of Diaspora carried out the establishment of a working commission comprised of educators and representatives of Syrian-Armenian organizations in particular Guiligian Benevolent Organization. The RA Ministry of Diaspora coordinated the process of establishing a school with instruction in Arabic and the Syrian state curriculum in collaboration with the RA Ministry of Education and Science and the Department of General Education at Yerevan Municipality. The sides studied and analyzed the appropriateness and need of establishing such a school, as well as Syrian-Armenians' demands and the educational programs in Syria.