LOS ANGELES — The prestigious Los Angeles Travel and Adventure Show is featuring for the third time, the Republic of Armenia and the Republic of Karabakh (Artsakh). Both countries made their first appearance at the show in 2010, leaving a lasting impression on thousands of visitors.
The joint Armenia-Artsakh booth will feature some of Armenia's major travel companies while offering information guides, films, video clips as well as cultural performances and national delights to its visitors. Yerevan, the capital city of Armenia—also a sister city of Los Angeles— will be prominently featured at the booth exemplifying the artistic and cultural diversity of Armenia.
In addition to tourism professionals, Armenian artists and celebrities will also be present to greet the visitors. Armenia and Artsakh's joint participation at the Travel and Adventure Show is co-sponsored by the National Competitiveness Foundation of Armenia, the Consulate General of the Republic of Armenia in Los Angeles and the Artsakh Tourism Board.
Matthew Karanian and Robert Kurkjian, authors of Armenia's first-ever commercial travel guidebook, will also be present and signing the new edition of Armenia's best selling travel guide, The Stone Garden Travel Guide: Armenia and Karabakh.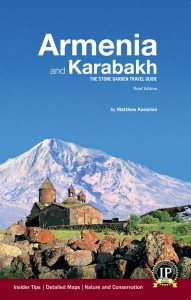 The third edition of the book contains 320 pages, featuring 27 color maps and more than 150 color photographs. In addition to the new artwork, the book also features a never-before published map of historic Armenia, which was created shortly after the Genocide. The highly acclaimed book is Award Finalist for Best Travel Guide by the Independent Publishers Association.
Author-photographer Matthew Karanian and photographer Robert Kurkjian have each spent more than a decade traveling and working in Armenia. Their writing and photography about Armenia has collectively been featured in magazines and newspapers including the CNN Traveler magazine, Global Adventure and Photo Life.
The Los Angeles Travel Show will be held on February 22rd and 24th 2013 at the LA Convention Center: 1201 South Figueroa Street, Los Angeles, CA 90015. The "Armenia/Artsakh" booths will be located at space 1225.