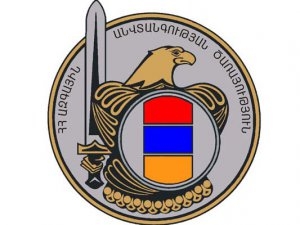 YEREVAN — The Armenian National Security Service (NSS) has exposed and prevented yet another provocation attempt by Azerbaijan's special services.
In a statement released on Wednesday the National Security Service (NSS) said Zamirzhon Otazhonov, a 33-year-old citizen of Uzbekistan, an ethnic Tajik, turned to Armenia's law-enforcement authorities on September 24 offering his services to carry out "an act of terrorism" in the Azerbaijani capital of Baku in exchange for a payment of $20,000.
The NSS said its "operative-investigative measures" had exposed Otazhonov as an agent acting on the instructions of Azerbaijani special services and qualified his actions as "provocation". It added that Otazhonov had been deported from Armenia.
"By its actions the Azerbaijani side sought to present Armenia as a sponsor of terrorism," the NSS said.
The statement by the Armenian Security Service also claims that by sending an agent to Armenia Azerbaijan attempted to provoke a high-profile espionage scandal to "soften" the backlash over the case of Ramil Safarov, Azerbaijani murderer of Armenian Gurgen Margarian in Budapest, Hungary.