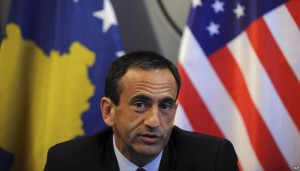 WASHINGTON, DC (RFE/RL) — The United States is "not satisfied" with explanations from Azerbaijan and Hungary concerning the pardoning of an Azerbaijani officer who brutally murdered an Armenian soldier at a NATO seminar in Budapest eight years ago.
Philip Gordon, the U.S. assistant secretary of state for European and Eurasian Affairs, told RFE/RL at the Center for European Policy Analysis' U.S.-Central Europe Strategy Forum on September 20 that Washington continues to express "dismay and disappointment" to Budapest about its decision to release Ramil Safarov to Baku.
He said Washington is sending the same message to Azerbaijan's government, which pardoned Safarov and then promoted him after his August 31 return to the country.
"We were appalled by the glorification that we heard in some quarters of somebody who was convicted of murder," Gordon said. He called the case "a real provocation in the region."
The U.S. administration already expressed "deep concern" immediately after Safarov's release from a Hungarian prison where he was serving a life sentence for hacking to death Armenian Lieutenant Gurgen Markarian. President Barack Obama said through a spokesman that it was "contrary to ongoing efforts to reduce regional tensions." The State Department was likewise "extremely troubled" by the development, demanding an explanation from the Hungarian government.
U.S. Deputy Secretary of State William Burns conveyed these concerns to Azerbaijan's Foreign Minister Elmar Mammadyarov in a phone call on September 2. Mammadyarov reportedly told Burns that Baku is "bewildered" by the U.S. criticism.
Azerbaijani President Ilham Aliyev has strongly defended his decision to pardon and promote the axe-killer, saying that it conformed to international and Azerbaijani laws.
For their part, the Hungarian authorities and Prime Minister Viktor Orban in particular insist on the legality of Safarov's extradition to Azerbaijan. Official Budapest says Baku had assured it that the officer will serve the rest of his jail term in an Azerbaijani prison.
Armenia, which suspended diplomatic relations with Hungary on August 31, has shrugged off these assurances. Armenian officials say that Orban's government knew that Safarov will be set free on his return home when it cut a secret "deal" with Baku earlier this year.
Gordon's comments suggest that Washington too does not consider the Hungarian arguments convincing.
The European Union, by contrast, has avoided blaming Hungary, an EU member state, and aimed its public criticism of Safarov's release only at the Azerbaijani side.