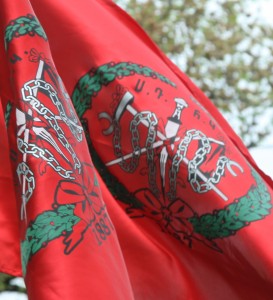 The Armenian Branch of the Social Democrat Hunchakian Party issued a statement condemning the extradition and subsequent pardon of the convicted Azeri murderer Ramil Safarov.
Safarov had been serving a prison sentence in Hungary, where he had killed an Armenian officer while both were attending a training course at a military academy in the capital, Budapest, in 2004. The Azeri soldier, without any regret, confessed that he had hacked the Lieutenant Gurgen Margaryan to death and was sentenced to life imprisonment in 2004. Yet On Friday, August 31st the Hungarian government repatriated the Azerbaijani military officer to Azerbaijan where he was immediately pardoned and set free by Azeri President Ilham Aliyev. This prompted Armenia to cut diplomatic ties with Hungary, accusing it of having struck a deal to secure energy.
In a statement the party says: "The decision of the Hungarian authorities to repatriate the Azeri murderer and terrorist to Azerbaijan is worthy of contempt. Hungary, which considers itself to be a devotee to the European values and the protection of human rights, agreed to transfer a murderer throwing a challenge to the whole civilized world and proving that Azerbaijani dollars are more important than justice."
The Hunchakian Party welcomes the decision of the Armenian authorities to suspend diplomatic relations with Hungary, and expresses the hope that the process does not stop and Safarov receives punishment either in Budapest or at home in Baku . The fact of praise and glorification of murderers in Azerbaijan demonstrates the Armenophobic, genocidal and fascist atmosphere that reigns today in Azerbaijan.
The party is confident that organizations throughout Diaspora will take action to make the international community give an adequate assessment of "Hungary's treacherous behavior and Azerbaijani fascist policy," The statement concluded expressing "The hour of retribution is close …"