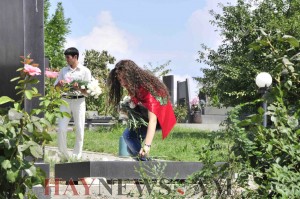 To mark the 21st anniversary of the Independence of Artsakh, Sarkis Dkhruni Students and the Youth Union of Social Democrat Hunchakian Party (SDHP) paid tribute to the fallen soldiers who fought for the independence and freedom of Artsakh at the Erablur Pantheon on September 2.
Flowers are wreaths were laid on the tombs of the martyrs as a sign of respect and gratitude for the perished heroes who sacrificed their lives in order for Artsakh to be free and independent regardless of their ranks, positions or party affiliations.
Dkhruni Youth members were accompanied by Artsakh fighters, among whom was the prominent commander of the Hunchakian "Paramaz" Detachment Commander Volodya Azatyan, ASALA member Vasken Siselyan and SDHP Armenia Executive Chairman Gevorg Perkupekyan.