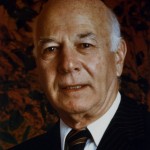 FRESNO — Paul R. Ignatius, former U. S. Secretary of the Navy and Assistant Secretary of Defense, will speak on his new book "Now I Know in Part: An Armenian-American Reflects on his Life and Times" at 7:30 PM on Wednesday, September 12, 2012, in the University Business Center, Alice Peters Auditorium, Room 191, on the Fresno State campus.
The lecture is part of the Armenian Studies Program Fall 2012 Lecture Series and is co-sponsored by the National Association for Armenian Studies and Research.
Paul R. Ignatius' Now I Know in Part, a substantially revised and expanded edition of a memoir that was first published privately in 2000, was issued in late 2011 by NAASR's Armenian Heritage Press.
In Now I Know in Part, Ignatius looks back on family history, childhood in Glendale (long before it had a major Armenian community), colorful characters (famous and obscure), Hollywood brushes with greatness, military service during World War II, a memorable journey to Historic Armenia with NAASR in 2006, and more.
A descendant of Armenian parents from the Kharpert region of historic Armenia, Ignatius is a native of Glendale, California, and a graduate of the University of Southern California. He earned an MBA from Harvard University after serving as a naval officer in World War II. He is also the author of On Board: My Life in the Navy, Government, and Business (Naval Institute Press, 2006).
Ignatius served for eight years in the presidential administrations of John F. Kennedy and Lyndon B. Johnson, first as an Assistant Secretary of the Army, then as Under Secretary of the Army and Assistant Secretary of Defense, and finally in 1967 as Secretary of the Navy. Following his government service, he was president of the Washington Post for two years and president of the Air Transport Association for fifteen years. He is the recipient of the Army Distinguished Civilian Service Award, the Navy Distinguished Public Service Award, and the Department of Defense Distinguished Public Service Award.
Copies of Now I Know in Part will be available for purchase after the lecture.
The lecture is free and open to the public.
Parking: Parking rules have changed for the university. Parking is available in Lots A or J on campus, only if a free parking pass is obtained by using parking code 273301 in any of the campus kiosks.
For more information on the lecture please contact the Armenian Studies Program at 278-2669.