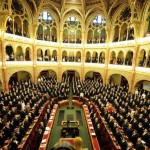 BUDAPEST — The opposition factions of the Hungarian parliament demand the government to present the reasons for the extradition of Ramil Safarov. Some of them have also demanded the Minister of Justice of Hungary to step down according to Armenpress report.
The chairman of the foreign affairs committee of the Socialist Party, former Minister of Foreign Affairs of Hungary László Kovács also demanded the Hungarian parliament to have an extraordinary session to discuss the decision of the Hungarian government to extradite Ramil Safarov to Azerbaijan.
"The members of Orban government bear responsibility for the pressure that is being applied on Hungary by the international community", Kovács mentioned stating that the extradition of an Azerbaijani national who killed Armenian officer had triggered huge international pressure. He also demands Hungarian government to present the reasons for the extradition of Safarov. László Kovács, who served as the European Commissioner for Taxation and Customs Union, considers that one of the reasons for the extradition may have been the purchase of Hungarian state bonds by Azerbaijan, that's to say big money played their role.
Hunagrian Socialist Party is the biggest party in the country's parliament with 48 members in a parliament with 300 members.
Hungarian opposition "Democratic coalition" party demanded the resignation of Hungarian Minister of Justice and also to set the extraordinary session of the parliament. This left-centrist party is headed by former prime-minister Ferenc Gyrcsány. It was established in 2010 as a part of the Hungarian Socialist Party, but later in 2011, these two parties separated creating distinct parties and fractions in the parliament. This part has 10 members in the Hungarian parliament.
Besides, Hungarian LMP opposition party blamed the government for getting into financial deals with Azerbaijan.