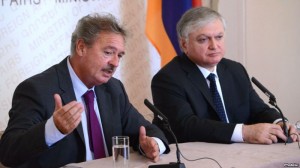 YEREVAN — Luxembourg's Deputy Prime Minister and Foreign Minister Jean Asselborn urged Hungary on Tuesday to acknowledge the offense caused to Armenia by its decision to repatriate the Azerbaijani axe-killer.
Visiting Yerevan, Asselborn said Hungarian Foreign Minister Janos Martonyi repeatedly assured him and top diplomats from other EU member states at a weekend meeting in Cyprus that "Hungary did not want to offend Armenia."
Martonyi gave similar assurances to his Armenian counterpart Edward Nalbandian in a letter sent before that meeting. He insisted that Ramil Safarov's extradition to Azerbaijan was based on a European convention and an understanding that he will serve out his life sentence in an Azerbaijani prison.
Nalbandian again dismissed the Hungarian explanations, saying after talks with Asselborn that they are contradictory and not credible. He stood by Yerevan's assertions that Safarov's release was the result of a secret "Hungarian-Azerbaijani deal." "What we hear from Azerbaijan these days is shocking, but unfortunately I must point out that what we hear from Hungary is no less shocking. The representatives of the Hungarian Government and other officials are saying that the deal was transparent, while the Azeri officials at the highest level are claiming that secret negotiations were held. " he told a joint news conference with Asselborn.
The Luxembourg minister, who met President Serzh Sarkisian later in the day, was clearly influenced by Nalbandian's arguments. "I am going to privately pass messages, which I have very well understood [in Yerevan,] to my colleague, the foreign minister of Hungary, to the effect that Hungary should perhaps go further and be more explicit than the letter that was sent [to Nalbandian] and perhaps also understand the offense which this decision caused to your country," he said.
In his letter, Martonyi reportedly warned that Yerevan will face "serious ramifications" in the international arena unless it restores diplomatic relations with Budapest. Nalbandian avoided commenting on that warning. He also did not answer a question about the Safarov affair's possible negative implications for ongoing negotiations on the signing of a far-reaching "association agreement" between Armenia and the EU.
While expressing at Safarov's pardoning by Azerbaijani President Ilham Aliyev, EU leaders in Brussels have so far stopped short of publicly criticizing the Hungarian side. The EU's foreign policy chief Catherine Ashton and Enlargement Commissioner Stefan Fuele said through their spokespersons last week that Safarov's transfer to Azerbaijan was carried out "in the framework of the Convention of Strasbourg on the Transfer of Senten
"From the European Union there has been not only that statement but also other statements, including by EU member states," said Nalbandian. "In recent days I have received dozens of phone calls from the foreign ministers of different countries, including EU member states, who expressed their clear attitudes towards this Azerbaijani-Hungarian deal."
"If one kills a person with an axe, one cannot serve as an example or be declared a hero," Asselborn commented for his part. "I think that everyone in the European Union is very concerned by what happened in the last few days."
Nalbandian discussed the fallout from the Safarov affair and the ongoing association talks with the EU with Philippe Lefort, the EU's special envoy to the South Caucasus, later in the day. According to the Armenian Foreign Ministry, both men voiced their satisfaction with the development of Armenia-EU ties.