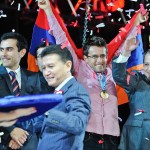 ISTANBUL — Armenia has won the World Chess Olympiad in Istanbul after finishing on top in the competition of 150 nations. This is the third Olympic gold won by Armenia in chess.
In the last round of the Olympiad Armenia was matched against Hungary. Levon Aronian secured a perpetual against Peter Leko, and the other games continued.
After the time control Gabriel Sargissian drew the rook endgame against Ferenc Berkes, and Sergei Movsesian scored a crucial victory against Zoltan Almasi. Eventually Vladimir Akopian held Judit Polgar to a draw to mark the start of huge celebration for Armenian gold medal.
Russia defeated Germany 3-1, but fell behind Armenia on tiebreak. China lost its match against Ukraine 3-1. Russia came second, Ukraine finished third.
Armenia had previously won the 2006 and 2008 Olympiads. Next Olympiad will be held in 2014 in Tromso, Norway.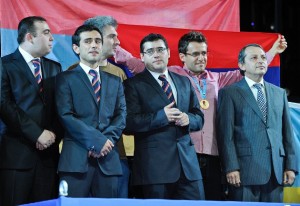 Armenian Tricolor Raised and National Anthem Played in Istanbul
The closing ceremony of the 40-th Chess Olympiad took place on September 9 in the hall of the WOW Hotel in Istanbul where Olympiad winners Armenia were honored for their superior achievement.
The Turkish organizers of the 40th World Chess Olympiad raised the Armenian flag and played the Armenian anthem as the Armenian men's team stood on the podium having accepted the trophy from FIDE President Kirlan Ilyumzhinov.
GMs Levon Aronian, Sergei Movsesian, Vladimir Akopian, Gabriel Sargissian, Tigran Petrosian and their coach Arshak Petrosyan are in for more glorification once they are back home where their win Sunday night also sparked celebrations.
Aronian and Akopian also took gold and silver medals, respectively, for their individual performances on boards #1 and #3.
Aronian shared his joy with fans through his Twitter account.
"We won the Olympiad !! So proud to be a part of a team like this! Hurray hurray hurray! Armenia rules !!!!" the Armenian chess ace wrote.
Armenia's women's chess team, meanwhile, finished sixth among 126 competing nations. They were only 11th at the Olympiad in Khanty-Mansiysk, Russia, two years ago.