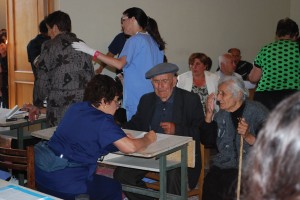 PARAMUS, NJ — This June, the Medical Mission Team, led by Dr. Al and Sue Phillips, returned to Armenia for its fourth year. The enthusiasm for the mission has grown substantially and this is due to God's providential leading of those who served.
The Mission Team of 37 worked in ambulatory clinics in Vanadzor and Stepanavan, Armenia. The team consisted of 7 physicians, a chiropractor, a pharmacist, a registered nurse, 20 essential ancillary workers, and 7 Armenian translators. The Team used the Vanadzor Evangelical Church and the AMAA Social Service Center in Stepanavan for their medical facilities. Patients came from local neighborhoods and many were transported to the clinic by bus from outlying villages.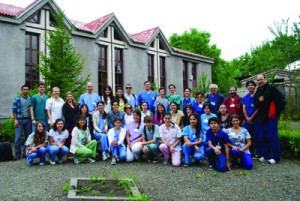 Over the course of the week, 917 patients were seen. This included adults and children. Many of the patients had been seen in previous years and relayed that our prior treatments had improved the quality of their lives. Common conditions included hypertension, diabetes and musculoskeletal problems. Purchased medications from donations allowed for an extensive pharmacy. Patients received all their drugs without charge. We were blessed to have enough medications to supply patients with a year's worth of treatment. Also, reading glasses were distributed. While patients were waiting to be seen, our nurse educator gave lectures on various medical issues. Donated toothbrushes and other oral hygiene items were distributed and patients were taught how to maintain good dental health.
During the clinic, patients were also encouraged to attend church services, where the good news of Jesus Christ was preached. Many were touched both physically and spiritually. We were told by the local clergy that our yearly clinics have resulted in more participation in the churches throughout the year and that we have been an encouragement to their congregations.
The Medical Mission Team has committed to return to Armenia for our fifth year in June 2013. If you have any desire in serving our brothers and sisters in Armenia or are interested in knowing more about the medical mission, please see our website which is located on the left column of www.amaa.org.
Medical and non-medical, Armenian or non-Armenian speaking volunteers are welcome. Jesus, during His ministry, often met the physical needs prior to addressing the spiritual needs of those He met. We are committed to emulating His love in Armenia.