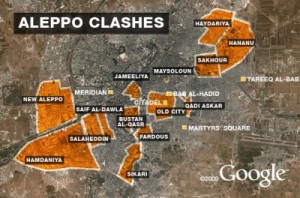 ALEPPO, SYRIA — Intensifying fighting in Alepo has left two Armenian resident of the besieged Syrian city dead on Tuesday and one victim wounded.
A spokesman for the Armenian Foreign Ministry has stated that 55-year Viken Kalayjian was gunned down in the morning. The other victim was Jan Tapash. The wounded young man is Mgo, but the surname is not known yet. The victims died at 9 o'clock in the morning from gun shots near Auarde Bridge.
The latest Armenian casualties were reported amid continuing heavy fighting between Syrian government troops and rebels holed up in some parts of Aleppo. News reports said forces loyal to President Bashar al-Assad tried to encircle the Salaheddine district, the rebel stronghold.
According to Reuters, mortar fire and tank shells exploded across the district early on Tuesday, forcing rebel fighters to take cover in crumbling buildings and rubble-strewn alleyways. Tanks have entered parts of Salaheddine and army snipers, using the cover of heavy bombardment, deployed on rooftops, hindering rebel movements, the news agency reported.
The clashes between government forces and rebels in Aleppo have reached Armenian-populated districts, in the evening of August 5 an explosion occurred in Abbasi district which is populated by Christians and Muslims, fortunately the Armenian community did not have victims.
Armenians of Aleppo have been advised not to come out of houses and be far from windows and open territories.
As the street battles raged on more ethnic Armenians fled Aleppo along with many other city residents. More than 100 of them arrived in Yerevan on board an Armavia plane late on Monday.