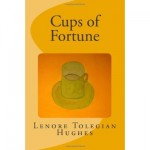 Pomegranate Seed Press
Paperback ($15.99) and Kindle ($4.99) versions available from Amazon.com
204 pages
ISBN:1475098588
ISBN-13:9781475098587
Cups of Fortune captures the experience of the escapees from the Armenian genocide who came to America to rebuild their lives, and of their children growing up in 1950's Southern California.
With a spirited and humorous voice Lenore Tolegian Hughes vividly evokes the physical, social, and psychological adventures of men and women driven by love of life to leave their homeland, and by their passionate natures to make something of themselves in the New World. The novel overflows with stories of three generations that are by turns horrific, hilarious, and heart-warming. At the same time Cups of Fortune is a powerful coming of age novel that recounts the early life of an Armenian-American girl growing up in 1950's Los Angeles.
Raised by her survivor-grandmother, who reads fortunes in the patterns made by the grounds at the bottoms of cups of thick Armenian coffee, Azad is introduced to tales of her family's shocking past, grows to appreciate of the exotic characters who inhabit her world, and gains insight into her own hyphenated identity. Gradually initiated into her grandmother's masterful preparation of traditional (and mouth-watering) Armenian foods, Azad also learns one of the world's perennial paths to love.
Honest, realistic, and magical, Cups of Fortune captivates the reader's imagination by evoking a world both tantalizingly foreign and as familiar as home.