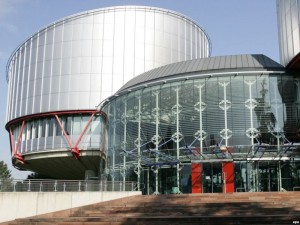 The European Court of Human Rights has ordered the Armenian authorities to pay 4,500 euros ($5,600) worth of compensation to an opposition figure who was arrested in 2006 for allegedly calling for a violent regime change.
Vartan Malkhasian was one of the leaders of a radical opposition group, called the Armenian Alliance of Volunteers, when he was arrested in December 2006. A Yerevan court convicted Malkhasian of publicly advocating a "violent overthrow of constitutional order" and sentenced him to two years in prison in August 2007.
The oppositionist denied the charges as baseless and politically motivated before appealing to the Strasbourg-based court. He sought 110,000 euros in moral damages.
The court ruled late on Tuesday that Malkhasian's six-month pre-trial detention violated key provisions of the European Convention on Human Rights. It said Armenian courts failed to substantiate their decisions to allow prosecutors to keep him under arrest pending trial.
"I was kept under pre-trial arrest unfairly," Malkhasian told RFE/RL's Armenian service (Azatutyun.am). "I could have been released pending trial because I had no criminal record, I hadn't gone on the run."
Malkhasian said he is satisfied with the amount of financial compensation set by the European court as he thinks he has scored a "moral victory" against the Armenian authorities. "These damages should be paid not by the state but the judge who sentenced me," he said.
Malkhasian added that he now expects a court ruling on his second lawsuit lodged with the Strasbourg court. It challenges the fairness and legality of the two-year prison sentence which the politician, now affiliated with the opposition Armenian National Congress (HAK), served in full.
The authorities in Yerevan have already been fined by the European Court of Human Rights for controversially jailing other opposition members in the past. The court is expected to rule in the coming years on the equally controversial imprisonment of dozens of other oppositionists in the wake of Armenia's disputed February 2008 presidential election.