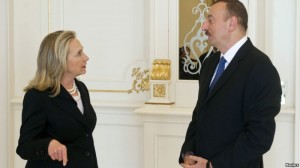 BAKU/YEREVAN — U.S. Secretary of State Hillary Clinton warned of possible "disastrous consequences" of escalating violence in the Nagorno-Karabakh conflict zone on Wednesday amid continuing deadly fighting between Armenian and Azerbaijani forces.
Speaking after talks with Azerbaijan's President Ilham Aliyev in Baku, Clinton said she is "deeply concerned about the danger of escalating tension, which could have unpredictable and disastrous consequences."
"This cycle of violence and retaliation must end, she said," according to the AFP news agency.
The warning followed a series of deadly skirmishes along the "line of contact" around Nagorno-Karabakh and Armenia's border with Azerbaijan that left at least nine soldiers dead on both sides.
One Armenian soldier was killed and three others wounded early on Wednesday in what Karabakh's army described as a failed Azerbaijani attempt to seize some of its frontline positions southeast of the territory. In a statement, it warned that further ceasefire violations by Azerbaijani troops could lead to "unpredictable consequences for Azerbaijan."
Three other Armenian soldiers were shot dead at the westernmost section of the Armenian-Azerbaijani frontier on Monday just hours before Clinton arrived in Yerevan for the first leg of her regional tour.
Clinton expressed concern at "the senseless deaths of young soldiers and innocent civilians" after talks with President Serzh Sarkisian. "The use of force will not resolve the Nagorno-Karabakh conflict and therefore force must not be used," she said. "We are calling on everyone to renounce force as well as refraining from violence."
At least five Azerbaijani soldiers died in a single combat incident the following morning.