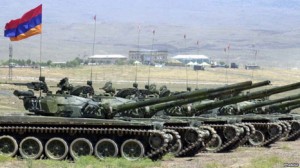 YEREVAN — Armenia's armed forces and other state structures will simulate a general mobilization for a full-scale war in unprecedented exercises that will take place later this month, Defense Minister Seyran Ohanian announced on Thursday.
Ohanian said the command-and-staff exercises scheduled for June 25-27 will test the country's combat-readiness through mock decrees to be issued by President Serzh Sarkisian. Top military and civilian officials will practice "the launch of the state-military state system at a time of war and the organization of resistance to aggression," he said during a weekly cabinet meeting chaired by Prime Minister Tigran Sarkisian.
"I would ask all governing bodies to issue appropriate instructions, to prepare relevant officials because we will be practicing Armenia's placement on high military alert," Ohanian told fellow ministers.
"Against that background, we will prepare, after evaluating the situation, corresponding decrees on the declaration of martial law, conduct of mobilization, resistance to aggression and the Armenian president's appeal to the [Collective Security Treaty Organization] leadership for support," he added without giving further details.
Ohanian implicitly linked the drills, the first of their kind, with unfolding preparations for CSTO military exercises that will be held in Armenia in September. They are expected to bring together troops from a rapid-reaction force that was set up in 2009 by the Russian-led military alliance of seven ex-Soviet states.
The minister made no mention of the recent upsurge in deadly fighting in the Nagorno-Karabakh conflict zone which left at least nine Azerbaijani and Armenian soldiers dead. The authorities in Baku and Yerevan have blamed each other for the escalation amid mounting international concerns about a renewed Armenian-Azerbaijani war.
Armenian leaders say that the Azerbaijani government, which regularly threatens to end the conflict by force, provoked the armed incidents to step up pressure on Armenia and international mediators. Sarkisian warned last week that further Azerbaijani "provocations" on the frontline would meet with a "tough" response from the Armenian side.
Some observers in Yerevan therefore see a clear link between the Karabakh escalation and the announced exercises. Ruben Mehrabian, a military analyst, suggested that Yerevan is sending a message to Baku ahead of fresh peace talks planned by the U.S., Russian and French mediators.
"The essence of this message is as follows: 'Don't you dare think that you can impose unfavorable solutions or unilateral concessions on us,'" Mehrabian told RFE/RL's Armenian service (Azatutyun.am).