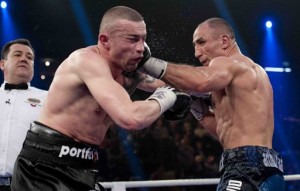 KIEL, GERMANY — Former IBF middleweight champion and Super Six contestant Arthur Abraham (34-3, 27 KOs) won a 12-round unanimous decision over Piotr Wilczewski (30-3, 10 KOs) on Saturday night.
Fighting in front of a sell-out crowd of 6.000 fans in Kiel and over seven million viewers on German ARD TV, the 31-year-old he German-Armenian slugged his way to victory, but only after some hairy moments in the fight's first half. In round seven, a point deduction against Wilczewski turned the tie to Abraham's favor and his power began to pay dividends. At the end, Abraham was ahead 119-108, 118-109, 118-109.
The win makes Abraham the highest-ranked challenger in the WBO ratings and he will face the winner of the upcoming match-up between British 168lber George Groves and German champion Robert Stieglitz.