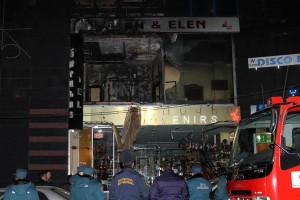 YEREVAN — Officials in Armenia's capital, Yerevan, say 10 people — including nine Iranian nationals and an Armenian — were injured in a grenade explosion at a nightclub.
Yerevan police officials say an unknown attacker threw a grenade inside the Alen-Elen disco club in the early hours of March 20.
The motive for the attack was not immediately clear.
The victims were briefly hospitalized after suffering burns and smoke intoxication .
"The preliminary investigation will reveal the motives of the crime. We cannot say for sure that it was against Iranians," Sevak Militonyan, representative of the Police's Public Relations Department, told ArmeniaNow.