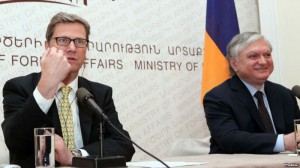 YEREVAN — The status quo in the Nagorno-Karabakh conflict is not sustainable and Armenia should be particularly interested in its peaceful resolution, German Foreign Minister Guido Westerwelle said during a visit to Yerevan on Thursday.
Westerwelle met with President Serzh Sarkisian and Foreign Minister Edward Nalbandian on the final leg of his tour of the three South Caucasus states. They discussed bilateral ties, the Karabakh dispute and developments in the broader region.
"From our perspective, the status quo in the Karabakh conflict zone cannot be long-lasting," Westerwelle told a joint news conference with Nalbandian. "And benefits anticipated from a peaceful settlement will be great for all parties, especially Armenia. Therefore, a compromise solution to the conflict should be pursued within the framework of the OSCE Minsk Group."
Top officials from the United States, Russia and France, which co-chair the Minsk Group, have made similar statements in recent months. In a joint statement last December, U.S. Secretary of State Hillary Clinton, Russian Foreign Minister Sergei Lavrov and a top French official described the Karabakh status quo as "unacceptable."
Westerwelle indicated Germany's support for the basic principles of Karabakh peace proposed by the three mediating powers. He said the conflict should be resolved on the basis of "a balance between the principles of territorial integrity and people's self-determination."
Nalbandian blamed Azerbaijan for the lack of decisive progress in the long-running peace talks. In particular, he accused Baku of backtracking on an agreement to jointly investigate ceasefire violations in the conflict zone which he said was brokered by the mediators last year. "We agree on something but Azerbaijan then backpedals," Nalbandian said.
Westerwelle and Nalbandian also praised the current state of political and economic ties between their nations. Westerwelle reaffirmed his country's support for Armenia's integration into the European Union though the bloc's Eastern Partnership program.
Germany is one of Armenia's leading trading partners and its number one export market in the EU. According to Armenian government data, the total volume of German-Armenian trade rose by almost 18 percent to $404 million last year, accounting for 7.4 percent of the South Caucasus state's overall external commerce.
Germany is Armenia's second-largest foreign donor after the United States, having allocated at least 220 million euros ($290 million) in loans and grants since 1995. It has also been the single largest contributor to the EU's separate multimillion-dollar assistance to Yerevan.
"I think our potential [for economic cooperation] is much greater," said Nalbandian. "With joint efforts we can do more."
"We are also grateful to Germany for its assistance provided to Armenia since independence," added the minister.
In Westerwelle's words, Berlin is especially interested in helping to strengthen the rule of law in Armenia with various assistance programs. That is essential for the country's sustainable economic development, he said.