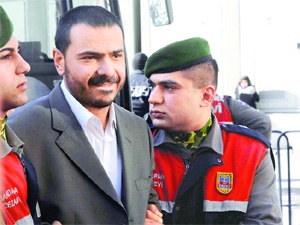 ISTANBUL — Turkish nationalist Erhan Tuncel, a suspect in Turkish-Armenian journalist Hrant Dink's murder case, has unveiled new details of the plot after being detained and subsequently released by a court ruling.
In an interview with Turkish Star newspaper Tuncel insisted Ergenekon has connection to the murder.
He has recommended studying the list of those who visited the perpetrator, Yasin Hayal, in prison. According to the Turkish newspaper Radikal, Tuncel suspected Hayal of having connections with the ultra-nationalist organization Ergenekon.
Tuncel, who was released from jail 19 days ago, was quoted as telling Star newspaper on Sunday that Hayal did not have any intent to kill Dink before being detained over a bomb plot in a Trabzon McDonalds. He was reportedly taken to a psychiatric hospital from prison cell, but the court never had any access to the list of people who visit him in that period.
According to the Turkish paper, the plaintiffs in the Dink assassination trial demanded that retired General Veli Kucuk, who is now in detention over the Ergenekon plot, visited Hayal in prison.
Tuncel further claimed that Yasin often visited the Trabzon police.
"Why didn't the six police agents of the Trabzon gendarmerie stand a trial? Dink murder case will not be resolved until Resat Altay, former gendarmerie head sheds light on everything," Tuncel said stressing that many police officers must reveal the facts of the murder case.