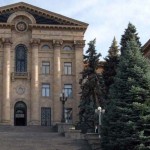 YEREVAN — President of Armenia has signed a decree on setting a date for Armenia's forthcoming parliamentary elections. According to the decree, the election of the National Assembly is scheduled for May 6, 2012.
Although campaigning for the polls will not officially get underway before late March, the HHK and other major political forces are already gearing up for a parliamentary race that will have serious implications for next year's presidential ballot.
The HHK faction in the current 131-seat National Assembly officially numbers 63 members. The presidential party is also backed by about a dozen nominally independent deputies.
Some Armenian opposition leaders have already accused the Republicans of planning to rig the upcoming vote. Armenia's leading opposition groups saying that the pro-government majority in the National Assembly rejected radical changes proposed by the opposition minority. Those would, among other things, abolish parliamentary elections held in single-mandate constituencies.
The Electoral Code reserves 41 parliament seats for those constituencies. The remaining 90 seats are to be contested under the system of proportional representation.
The main opposition Armenian National Congress (HAK) has already warned that the authorities will face an anti-government "revolution" if they resort to vote rigging. "Either they will hold fair, transparent and legitimate elections or will thrust the country into upheavals," Levon Zurabian, an HAK leader, said in late December.