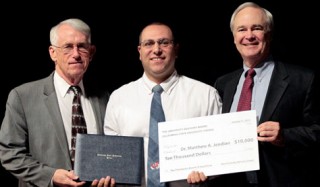 Dr. Matthew Ari Jendian, a self-described "public sociologist" who excels in academic scholarship and research, commitment to students and community engagement, is the recipient of the 2012 President's Award of Excellence at Fresno State.
Jendian, born and raised in Fresno, received his B.A. in sociology and minor degrees in psychology and Armenian Studies from Fresno State (1991) and his Ph.D. from USC (2001) and joined the faculty at Fresno State in 1995. He is an associate professor, chairs the Department of Sociology and coordinates the university's highly regarded Humanics Program which prepares the next generation of leaders for nonprofit, community benefit organizations.
He was honored Wednesday, January 11, at the Spring Assembly for faculty and staff. The award was presented by J. Michael McGowan, president and CEO of Premier Valley Bank and a member of the University Advisory Board.
The President's Award of Excellence was established in 2001 by the University Advisory Board to honor Fresno State President John D. Welty. The award recognizes a faculty or staff member who demonstrates integrity, leadership and a commitment to the university and the community as exemplified by President Welty.
University Advisory Board members, community leaders who consult with the president, select the recipient and donate money for a $10,000 award that accompanies the honor.
Jendian is the recipient of several honors, including the Social Action Award from Temple Beth Israel, Amigo Award presented by Vida en el Valle, Provost's Award for Faculty Service, and was honored in Menk, an encyclopedia of biographies of prominent Armenian scholars.
Under Jendian's leadership, Fresno State's Humanics Program has become recognized as among the strongest in the country in terms of academic vigor and impact of service on the community. The Humanics Program prepares and certifies students to strengthen and lead nonprofit, community benefit organizations. Over 100 students are seeking the Humanics certificate at Fresno State program. Since 2001, nearly 150 Fresno State students have graduated with a Humanics certificate, and approximately 70 percent of them are employed in nonprofit and public sector positions.
Jendian is the current board president of Buchanan Babe Ruth Baseball Association in Clovis and has served as a board member of the Nonprofit Leadership Alliance, a national organization with nearly 50 academic partners. He also serves the Armenian Church as an ordained Deacon and has been a board member for several other organizations including Fresno Nonprofit Advancement Council, Fresno Housing Alliance and Relational Culture Institute.
He is the author of a book, "Becoming American, Remaining Ethnic: The Case of Armenian-Americans in Central California" (LFB Scholarly Publishing, 2008) which can be purchased online at Barnes and Noble. In addition, Jendian is the author of several journal and opinion articles and has made numerous presentations at state, regional and national professional conferences while serving as a reviewer for scholarly publications and journals in his field.
Jendian has also served as an external evaluator with local and multinational community benefit organizations, including Porterville College and Armenian General Benevolent Union. He and his wife, Pamela, reside in Clovis with their two sons, Joshua and Nicholas.