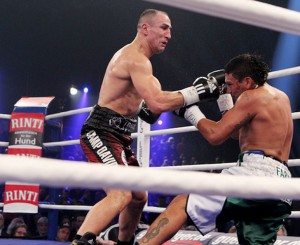 OFFENBURG — Germany-based professional boxer Arthur Abraham celebrated a successful ring return on Saturday night when he knocked out Pablo Farias (19-2, 11 KOs) in the fifth round of their clash in Offenburg, Germany. Fighting in front of a sell-out crowd of 4,000 fans, Abraham punished his opponent with his trademark power punches. He knocked him down three times before the referee waved the bout off after two minutes in round five.
The win at Baden-Arena enabled the 31-year-old Armenian to capture the vacant WBO European super middleweight title.
Abraham, a former International Boxing Federation (IBF) middleweight champion, a.k.a. "King Arthur", looked solid in the fight against his little-known 24-year-old Latino opponent, nicknamed "Pokemon", overwhelming him in the fifth round of the scheduled 12-round bout with a combination of punches to the head and body. The Armenian knocked his opponent down three times for the TKO.
"It´s good to be back," King Arthur said. "This was a good start, nothing more and nothing less. I am pleased with my performance and will keep working hard to get back to the very top. I want to be world champion again in 2012."
Abraham's latest victory comes after three defeats in four 168-pound division fights that raised questions about the Armenian fighter's ability to stay competitive in this class.
Last summer Abraham announced his plans to move back down to the middleweight division, where he stayed unbeaten in 2005-2009, and recover his championship.