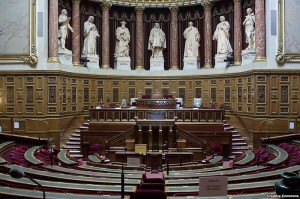 Turkish Ambassador Returns to Paris
PARIS — The French Senate on Tuesday said it will debate a bill to outlaw denial of the Armenian genocide on January 23, despite a furious diplomatic spat with Turkey.
The French lower house approved the law last month, threatening anyone who denies that the 1915 massacre of Armenians by Ottoman Turk forces amounted to genocide with jail, drawing a threat of sanctions from Turkey.
Ankara froze political and military ties with France when the bill was passed by the National Assembly, and has threatened further measures if it continues through the Senate or is approved by President Nicolas Sarkozy.
The is backed by a cross-party majority of lawmakers but has not won universal support in the government, where some ministers fear it will hurt diplomatic and trade ties with a NATO ally and major economic partner.
The Turkish ambassador to France, Tahsin Burcuoglu, reportedly returned to Paris at the weekend more than two weeks after being recalled to Ankara in protest against the French bill.
"The ambassador has finished the consultations for which he was recalled and returned to France on Saturday," Turkish Foreign Ministry spokesman Selcuk Unal told the AFP news agency on Sunday.
"Hurriyet Daily News" reported last week that Burcuoglu will be sent back to Paris to "coordinate" Turkish efforts to prevent the genocide bill's passage by the French Senate.
Burcuoglu said Turkey's goal is to provide freezing of the proposal in a short term period adding that it is "senseless, useless and extremely dangerous," TRT Russia reported.