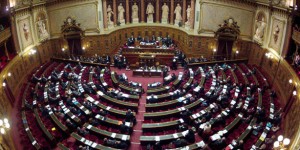 PARIS — A bill making it a crime to deny the 1915 killings of Armenians was a genocide has passed both houses of France's parliament.
The Senate's vote Monday came despite Turkey's threats to impose new sanctions on France. It already suspended military, economic and political ties when the lower house of French parliament passed the bill last month. The vote at the 348-member upper house of the French legislature went 127-86 in favor of the bill
The measure now needs to be signed by President Nicolas Sarkozy, whose party proposed it, to become a law.
As the debate before the vote got under way, rival demonstrations — one pro-Turkish and one pro-Armenian, kept apart by a large police presence — gathered outside the upper house of parliament, waving flags and blowing whistles.
On Saturday, thousands of Turks from across Europe marched through the French capital, accusing French President Nicolas Sarkozy of acting in the hope of securing French Armenians' votes in this year's presidential elections.
The bill sets a punishment of up to one year in prison and a fine of euro45,000 ($59,000) for those who deny or "outrageously minimize" the killings — putting such action on par with denial of the Holocaust.