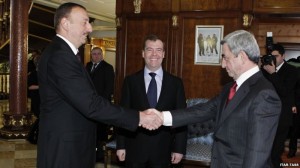 SOCHI — After a three-sided meeting with the Russian President, the leaders of Armenia and Azerbaijan announced that they were ready to speed up the talks on the Nagorno-Karabakh conflict. The talks took place in the South Russian resort of Krasnaya Polyana and were hosted by Russian president Dmitry Medvedev on Monday.
In a joint statement, Serzh Sarkisian and Ilham Aliyev said "they expressed readiness to accelerate the achievement of an agreement on the Basic Principles of the Nagorno-Karabakh settlement." In that regard, they stressed the importance of switching to discussions on a comprehensive peace accord based on those principles.
The Armenian and Azerbaijani presidents expressed their hope that Russia and other co-chairing countries in the OSCE Minsk Group – France and the United States – would continue to participate in the settlement process until peace and stability are finally established in the region.
The sides agreed that further development of humanitarian contacts between the countries was one of the ways to achieve settlement and said that they were ready to further promote dialogue between the representatives of science, culture and society.
The statement did not say, however, that Aliyev and Sarkisian narrowed their differences on the framework peace deal drafted by Russia, the United States and France under the aegis the OSCE Minsk Group.
According to the Interfax news agency, Russian Foreign Minister Sergei Lavrov told journalists after the trilateral meeting that there is still "a whole series of issues that remain to be agreed" before the conflicting parties can sign a document on the basic principles. Lavrov said the Armenian and Azerbaijani leaders agreed that they need to "move away from maximalist positions" in order to ensure further progress in the peace process.
The summit highlighted Russia's central role in the Armenian-Azerbaijani negotiating process that has been publicly praised by the United States and the European Union. Medvedev has organized a dozen Aliyev-Sarkisian meetings during his four-year presidency.
In a separate meeting with Aliyev held earlier on Monday, Medvedev insisted that these talks have been "useful" despite the lack of concrete agreements reached to date. "I hope that this kind of contacts will continue in the future," he said in televised remarks.