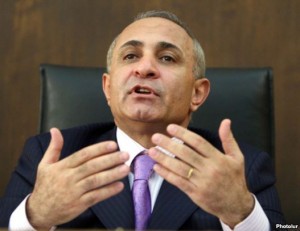 Sarkisian Neutralizing Officials Close to Kocharian
YEREVAN — Citing a "proposal" from President Serzh Sarkisian, parliament speaker Hovik Abrahamian announced on Wednesday his decision to resign, the latest in a series of key personnel changes within Armenia's political leadership.
In an interview with RFE/RL's Armenian service (Azatutyun.am), Abrahamian dismissed media speculation that he was forced to quit because of being regarded as a backer of former President Robert Kocharian's possible bid to return to power.
Abrahamian announced his exit from the parliament leadership the day after the sacking of Alik Sargsian, the chief of the Armenian police, and less than a week after the equally unexpected resignation of Yerevan Mayor Karen Karapetian.
Armenian commentators have suggested that these regrouping of forces is taking place in the run-up to next spring's parliamentary elections and are part of President Sarkisian's efforts to ward off a potential challenge to his rule from Kocharian. The latter gave in late September the strongest indication yet that he would like to return to active politics.
Abrahamian is widely believed to be close to Gagik Tsarukian, a wealthy Kocharian-linked businessman whose Prosperous Armenia Party (BHK) is a junior partner in the governing coalition. One of the speaker's sons is married to a daughter of the tycoon.
Tsarukian said last month that Kocharian has "every moral and political right" to come out of political retirement. He also pointedly declined to pledge support for Sarkisian's reelection in 2013. The BHK reportedly came under pressure from the presidential administration shortly afterwards.
Stepan Safarian, a parliamentary leader of the opposition Zharangutyun (Heritage) party claimed that this was a step to nullify chances of Robert Kocharian's return.