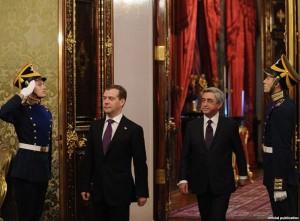 MOSCOW — President Dmitry Medvedev indicated Russia's intention to organize further high-level Armenian-Azerbaijani peace talks after meeting with his visiting Armenian counterpart Serzh Sarkisian on Monday.
The two men discussed the unresolved Nagorno-Karabakh conflict and bilateral ties on the second day of Sarkisian's state visit to Russia.
"I am convinced that one can achieve a just resolution of the conflict only by political means," Medvedev told a joint news conference in the Kremlin. "In recent years quite a lot has been done in that direction, including with Russia's participation."
"I believe that we should continue to contribute to the negotiating process as a co-chair of the [OSCE] Minsk Group by organizing direct contacts with the leaderships of Armenia and Azerbaijan," he said.
Medvedev has hosted as many as ten face-to-face meetings between Sarkisian and Azerbaijan's President Ilham Aliyev since 2008 in a bid to get the conflicting parties to agree on the basic principles of a Karabakh settlement drafted by Russia, the United States and France.
Sarkisian and Aliyev came very close to overcoming their differences at their most recent trilateral meeting with Medvedev held in the Russian city of Kazan in June. The meeting did not yield a breakthrough, however.
Medvedev went on to present the Armenian and Azerbaijani presidents with fresh proposals on how to end the impasse. Neither leader has publicized his response to those proposals in what is widely seen as a sign that the peace process will likely remain deadlocked in the months to come.