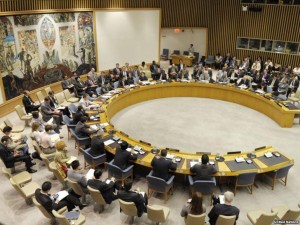 NEW YORK — Azerbaijan secured a first-ever seat on the UN Security council late on Monday after getting 155 votes in the 193-nation UN General Assembly. It will join Pakistan, Morocco, Guatemala and Togo as temporary members of the 15-nation council in January for a two-year term.
Slovenia and Azerbaijan along with Hungary were vying for a seat reserved for Eastern Europe. Azerbaijan's victory was confirmed after Slovenia, dropped out of the race. Slovene Foreign Minister Samuel Zbogar said his country "did not approve" of how the elections were held, although he failed to elaborate.
In a special statement issued on the occasion, Azerbaijani President Ilham Aliyev hailed the development as a "great victory" for his nation. "The number of our friends around the world is growing," he said.
Aliyev did not specify whether his government will use the Security Council seat to advance a Karabakh settlement desired by the Azerbaijani side.
In 2008, Baku pushed through the UN General Assembly a non-binding resolution that referred to Karabakh as an internationally recognized part of Azerbaijan and demanded an "immediate, complete and unconditional withdrawal of Armenian forces" from occupied Azerbaijani lands. The resolution was backed by 39 mostly Muslim states.
Armenia's government did not officially react to Azerbaijan's election to the Security Council as of Tuesday evening, downplayed the significance of Azerbaijan's membership, saying that it will have no impact on the resolution of the Nagorno-Karabakh conflict.