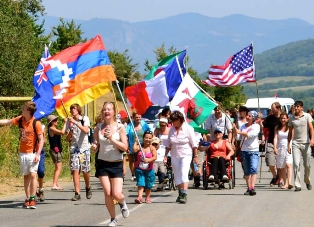 STEPANAKERT — Baroness Caroline Cox led 35 Humanitarian Aid Relief Trust (HART) supporters and volunteers from around the world in a pilgrimage across Nagorno-Karabakh this July.
The group weaved its way across the entire Karabakh and arrived 142 miles and 8 days later, in Gandzasar, a 13th century monastery in northern Karabakh.
The international group included 35 members from the United Kingdom, the United States, South Africa, Burma, Australia, France, Germany and the Netherlands, and were joined by local Armenians and patients from the Nagorno-Karabakh rehabilitation centre, a project set up by a partner of HART.
The pictures and stories will be collated into a photo exhibition to be shown first in the UK and then around the world, creating a visually powerful forum to document the situation in Karabakh and to give a glimpse into the lives and hopes of ordinary Karabakh Armenians.
This will contribute to a much-needed increase in understanding and awareness of Nagorno-Karabakh within the international community.
"The young people took photos of the residents, took interviews, asked about war and spoke about the future in Artsakh. This is a country, which creates beauty and wonderful churches from ruins", Caroline Cox noted.