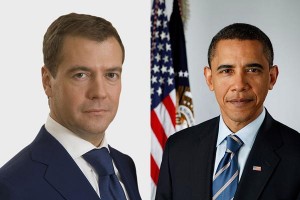 U.S. President Barack Obama and his Russian counterpart Dmitry Medvedev discussed the Nagorno-Karabakh conflict and reportedly agreed to make more joint efforts to broker an Armenian-Azerbaijani framework agreement in a phone call late on Monday.
The White House and the Kremlin listed the current state of the Karabakh peace process among the main issues on the agena of the conversation.
"President Obama also expressed his support for President Medvedev's mediation efforts regarding Nagorno-Karabakh, and pledged American support for the effort to reach a framework agreement for negotiating a final peace agreement that will put an end to this conflict," read a White House statement.
A separate statement issued by the Kremlin likewise cited Obama as praising Medvedev's mediation efforts.
"Both sides expressed their intention to continue to take coordinated steps aimed at fostering the search by Baku and Yerevan of a peaceful solution to the problem," it said.
The phone call coincided with the start of Russian Foreign Minister Sergei Lavrov's visit to Washington. He is scheduled to hold talks with Obama on Wednesday.
Lavrov flew to Washington three days after visiting Yerevan and Baku to hand Presidents Serzh Sarkisian and Ilham Aliyev a letter from Medvedev. He said it lays out concrete steps which the Russian president believes can break the impasse in the negotiating process mediated by the United States, Russia and France. Sarkisian and Aliyev promised to respond to the unpublicized letter soon.